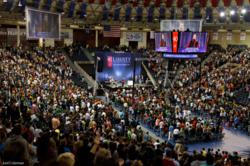 Lynchburg, Va. (PRWEB) September 21, 2012
Chancellor Jerry Falwell, Jr., has announced that Liberty University will be awarding Donald Trump an honorary doctorate in business during its Convocation on Monday, Sept. 24, 2012. Mr. Trump will then deliver a wide-ranging address to a record-breaking audience of North American evangelicals discussing success and politics, the role of faith in society, and the particular contribution that this generation of young people can, and must, make to preserve freedom in America. Mr. Trump and Chancellor Falwell will then hold a press conference immediately following the Convocation.
Chancellor Falwell issued the following statement regarding Donald Trump's visit to Liberty University: "Donald Trump has publicly expressed his support for Liberty University in our commitment to preserve the founding values of our nation. In the wake of the greatest expansion of government since FDR, Mr. Trump stepped right into the bull's-eye and used his platform to fight for the preservation of capitalism, the free enterprise system, and limited government. He did numerous speeches, called out the president and congress by name, and was willing to say publicly what many conservatives were only saying privately. Trump is one of the nation's foremost proponents of fiscal conservatism, a value upon which this university, and our Schools of Law, Business, and Government, are staunchly committed, and have always been committed. A proponent of these values is a friend of Liberty University."
Event: Liberty University Convocation
Date: Monday, September 24, 2012
Program Time: 10-11 a.m.
Location: Vines Center on the campus of Liberty University (1971 University Blvd, Lynchburg, Va.)
Credentialing: To request press credentials, please e-mail your name, title, news outlet, phone number and (optional) twitter handle to Johnnie(at)liberty(dot)edu by 5 p.m. (EST) on Friday, Sept. 21, 2012. Credentialing will close at this time. Streaming video of the entire Convocation will be available at http://www.libertychannel.com, and accommodations can be made, upon request, to provide an "in-house" HD or SD pool feed via satellite and/or the LTN content delivery system.
Note:
With nearly 100,000 students studying on-campus and online, Liberty University is the largest Christian university in the world. It was founded in 1971 by the Rev. Jerry Falwell. The university hosts more than 80 guest speakers a year of international prominence. Previous speakers have included: Gov. Mitt Romney, President George H.W. Bush, President Ronald Reagan, Senator John McCain, Speaker Newt Gingrich, Billy Graham, Franklin Graham, Luis Palau, Rick Warren, Congresswoman Michele Bachmann, Gov. Rick Perry, Ben Stein, Glenn Beck, Sean Hannity, and Gov. Mike Huckabee.