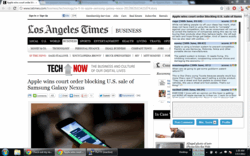 Chatterati gives everyone on the web a voice
(PRWEB) September 28, 2012
Imagine reading an interesting article, like on the latest salvo fired in the battle between Samsung and Apple. While a lot of readers might have a strong opinion on the subject that they would like to share with the world, not every website provides a good commenting system. Often the one in use is terribly overrun by spam or comments of little or no value. This is where a new software called Chatterati comes in.
Chatterati, put simply, is a browser extension that integrates a forum into every webpage on the Internet. Anybody can sign up and start commenting on any webpage. You can also browse the discussion and reply to individual comments.
To overcome the issue of spam, Chatterati employs a unique scoring scheme where users rate each other's comments and those with a good historical record are able to reward more points compared to new or abusive users. While browsing a discussion one can select a threshold score so that comments below that score are not displayed.
While there are several commenting systems like Disqus already in use, Chatterati is unique in that it does not require any server-side modification to support comments on a website since it runs on the client, and no website can have editorial control over the contents of the discussion or the ability to remove it either. "Chatterati gives everyone a voice, even if it is an unpopular opinion that the website doesn't appreciate", says Anuj Jain, the developer behind this app.
Webpages like news article, product reviews, company websites and online stores are natural hosts for discussions, but don't always have an easy mechanism for sharing opinions, information, or feedback. Imagine finding a shopping item on an obscure website, and being able to have a discussion with other users about the reliability of the site on the site itself before making a purchase. Or a company like Apple being able to garner overall feedback from their homepage, and iphone feedback from apple.com/iphone. There are many such scenarios where Chatterati would be useful.
Chatterati is currently available for Chrome and can be downloaded from http://www.chatterati.in.