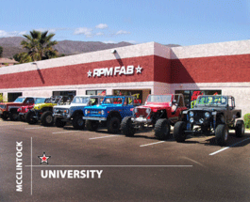 "We are dedicated to being different from other manufacturing shops through our passion and innovation. "
Ian Liljeblad
Tempe, Arizona (PRWEB) September 26, 2012
Random Precision Manufacturing, Inc. announces the launch of its new business website http://metal-art-design.com as well as the opening of its new storefront location on 1828 East University Drive, Suite 8, in Tempe, Arizona. To alert current and future clients to the move and the setup of its new Internet portal, Random Precision Manufacturing has retained the services of PageViews Interactive LLC. http://www.pageviews.com
"The new facility is bigger, cleaner, and has better road exposure," Random Precision Manufacturing tells clients who visit the new location for the first time. Ample parking makes it easy for clients picking up their orders to back up a truck or van. While moving the business inventory and getting the storefront ready for the first clients to come and place their orders in Tempe, the company also decided to re-launch its business website. Capitalizing on the brief downtime in the business, Random Precision Manufacturing has chosen to add numerous photos of its artwork to the website prior to launch.
The result is a user-friendly online experience for shoppers seeking more information about the types of services that Random Precision Manufacturing provides. Visitors to the company's Internet portal have the opportunity to browse the attractive artwork the workers have thus far custom-manufactured for local business and online buyers. Of special interest is the highly refined detail work that separates these artisans from other businesses that also cater to the client in need of customized artwork.
Further setting apart Random Precision Manufacturing's offerings from those companies that specialize in non-commercial artwork only, are the commercial products that provide no-frills functionality with a custom-tailored design. Gas-powered blenders, architectural metalwork and unique commercial designs transform any business locale into a location with character and inimitable ambiance. It is this commitment to the design of unique but functional business tools in use across the nation that has brought Random Precision Manufacturing to the attention of a large Phoenix audience.
Visiting the new Tempe location for Random Precision Manufacturing allows you the ultimate shopping experience. Not only can you view amazing art that is one of a kind, but you can also find pleasure from the enjoyable atmosphere that the store has to offer through the uniqueness of the items available and the personable staff.
Random Precision Manufacturing, Inc. opened its doors in 2003. Currently employing three workers, the company manufactures custom metal fixtures, decorations, furniture, table tents and flip stands usually found on tabletops. "We are dedicated to being different from other manufacturing shops through our passion and innovation," owner Ian Liljeblad explains.
For questions, please call (480) 329-2992 or visit us at http://metal-art-design.com .