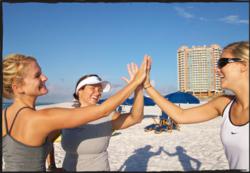 The weekend's activities include workshops, fitness sessions, culinary classes, nature journeys and adventure excursions ...
Pensacola Beach, FL (PRWEB) September 24, 2012
Portofino Island Resort invites women to become an escapist with its special Women's Escape Weekend, Oct. 11-14, 2012. Situated along eight miles of untouched white sand beaches near Pensacola Beach, Fla., Portofino Island Resort embraces healthy living, wellness, discovery, and natural wonders. With these tenants at the core, Portofino has created a girlfriends getaway that allows women to focus on themselves.
"Women tend give 100 percent of their time to their families, their jobs and their community, but rarely make themselves a priority," said Portofino Marketing Director Lorraine Christen. "The team at Portofino has collaborated to bring together the best of the resort's offerings along with author and wellness expert Laurie Beck to create an incredible weekend that is sure to leave women feeling healthy, relaxed, rejuvenated, and refreshed."
Portofino's secluded and protected shoreline within the Gulf Islands National Seashore offers endless opportunities for recreation and rejuvenation. The weekend's activities include workshops, fitness sessions, culinary classes, nature journeys and adventure excursions, specifically designed to offer a deeply nourishing and transformative experience, providing the tools for a lifetime of greater well-being.
The women's weekend also features special guest speaker, Pilates instructor and author Laurie Beck, who will share tips for both mental and physical wellness. Beck learned the hard way that it is imperative to make time for herself after being diagnosed with cancer nearly a decade ago. Her healing journey taught her eight important lessons, which she's outlined a meditative book, Eight Little Lessons of Hope & Healing. Each participant will receive a special signed copy of the book and Pilates session as part of the package.
The package, which is designed for groups of four, includes luxury accommodations in a two- or three-bedroom skyhome, featuring floor-to-ceiling views, whirlpool baths and a gourmet kitchen. The resort and spa get-away includes all meals, activities and a $100 spa credit as well as use of all Portofino amenities. Portofino features 28-acres for exploring, a state-of-the-art fitness center, an Olympic-style indoor pool and two infinity-edge outdoor pools. Resort amenities include bicycles, kayaks, paddle boards, and beach chair and umbrella set up, among other offerings.
Psychology Today reports that taking time for yourself gives the brain a chance to reboot, improves concentration, and increases productivity. Portofino is delighted to give women the perfect reason to escape. The cost for the four-day, three-night Women's Weekend Escape is $1,150 per person, based on four people and includes all meals, activities and $100 spa credit. To learn more about Portofino Island Resort and details of the package, visit http://www.portofinoisland.com/womens-escape or call 877-484-3405.