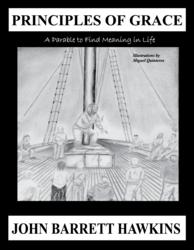 SAN dIEGO, CA. (PRWEB) September 30, 2012
Principles of Grace: A Parable to Discover Purpose in Life, the new book by John Barrett Hawkins, provides success secrets for achieving your dreams. The book is based on Hawkins' 10-year study of personal development literature.
"I wanted to learn all that I could learn about how the world's peak performers achieve their dreams," says Hawkins. "I read countless books on the subject of achieving your goals, and mined them for insights, ideas, advice, wisdom and success secrets. The most insightful information was then compiled into a step-by step formula, which became the basis for Principles of Grace."
Hawkins identified 10 specific qualities and behaviors in individuals who achieve their dreams.

They make a lifetime commitment to learning and to their personal development.
They believe they will succeed, even if no one else shares their belief.
They develop persistence and view failure as a stepping stone on the pathway to their goals.
They pursue their ambitions with passion every day.
They begin with a detailed plan, but are flexible enough to alter course when required.
They exercise daily and follow a nutritious diet.
Their goals are in perfect harmony with their principles.
Their efforts always contribute to society in some way.
They recruit others who share their hopes and dreams.
They possess a burning desire and an unwavering commitment.
Principles of Grace is a 94-page parable. The softcover book is available at Amazon.com and the e-book edition is available through Kindle.
Att. Media: contact the author for interviews or review copies. Visit http://www.JohnBarrettHawkins.com/presskit for cover art, author photos, excerpts, book summary, chapter-by-chapter preview, mock book review, news pegs, articles written by Hawkins and more.