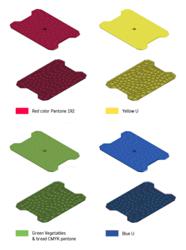 "If you want to order one board, we give you that option. If you want to order an Early Bird Holiday Special that comes with three FLOW perforated cutting boards, we offer that too. All the way up to our Restaurant Special that includes 20 FLOW boards."
New York, NY (PRWEB) September 20, 2012
FLOW by Simpleware is the world's first perforated cutting board that allows juices from cutting meats, fruits and vegetables to flow through the surface of the board into an attached tray, but the uniqueness of the board does not end there. The creators have recently introduced interchangeable boards that allow cooks and chefs alike to eliminate any risks of contamination.
One of the most common causes of food poisoning is cross-contamination, which is the transfer of bacteria from one food item to another. Using just one cutting board for all different types of foods surely runs the risk of food-related illness. Instead of having four different, bulky cutting boards, FLOW allows you to have one catch tray and four color-coded perforated boards that attach to the catch tray.
The new colors include red, green, yellow and blue. Red is for meat, green is for fruits, vegetables and bread, yellow is for poultry and blue is for seafood - easy to remember and easy to clean. The colored boards are available at two different reward levels - a three pack of red, green, and yellow; as well as a pack including all four colors.
The project is currently running a funding campaign on Kickstarter, a popular crowdfunding site, where it has successfully funded half of its funding goal of $25,000. With only 24 days left to go, FLOW still needs to raise another $12,500 in order for Hauser and Ahlmen to bring it to life and into your kitchen.
You can support FLOW's crowdfunding campaign by visiting http://bit.ly/FlowKS and pre-ordering any number of FLOW cutting boards for yourself or as gifts.
"We have something for everyone," noted Ola Ahlmen, co-creator of the FLOW. "If you want to order one board, we give you that option. If you want to order an Early Bird Holiday Special that comes with three FLOW perforated cutting boards, we offer that too. All the way up to our Restaurant Special that includes 20 FLOW boards."
If you'd like to stay up to date on Simpleware's Kickstarter campaign and learn about new, exciting rewards, be sure to follow them on Twitter @Simpleware and Like them on Facebook at https://www.facebook.com/simplehouseware.