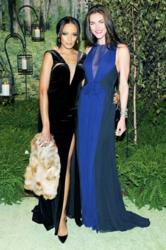 New York, NY (PRWEB) September 21, 2012
There's a chill in the air, and what better way to turn up the heat than with one of the hottest trends of the season— velvet. Fashion model and former Victoria's Secret Angel Selita Ebanks was breathtaking in a velvet Jovani gown at Tuesday night's New Yorkers for Children (NYFC) 13th Annual Fall Gala hosted at Cipriani 42nd Street. With a plunging illusion neckline, Selita Ebanks was turning heads at the black-tie event honoring New York Giants' defensive end Justin Tuck and Estèe Lauder President John Demsey.
Selita Ebanks mixed and mingled with model Hilary Rhoda and singer Estelle at the star-studded event supporting young people within the New York City foster care system. Other celebrities at the event included Jessica White, Rebecca Minkoff and Eli Mizrahi.
The black velvet fabric was eye-catching and certainly made a bold statement among other attendees who opted for bright hues, intricate prints and metallic shades. There was nothing quite like it against the green backdrop and nothing came close to its stunning glamour.
With this graceful gown, Jovani showcases just how to make a new trend look elegant and timeless. Extravagance and old Hollywood glamour is a must for fall, making fabrics like velvet a key statement piece for this season's wardrobe. The high slit, cut-out details and plunging illusion neckline add dimension and character to this velvet beauty.
As the colors for this fall season rely on jewel tones like burgundy and tangerine, this black dress proves that texture can boost up the basics. The black velvet is not only appealing to the eye due to its sleek and contemporary silhouette, but the unique sheen of the fabric is rich-looking and utterly remarkable.
If this velvet stunner is any example of where the season is headed for the New York-based fashion house, then you definitely want to keep your eyes out for more Jovani show-stoppers.
Company
Jovani Fashions is a New York-based fashion house that designs and manufactures luxurious evening dresses and couture gowns. The world-renowned brand sells to over 3,000 specialty stores worldwide, including major department stores such as Neiman Marcus, Nordstrom and Bloomingdales. Jovani offers an extensive collection of evening gowns, bridal and chic cocktail dresses, in addition to their embellished couture designs. Jovani dresses are a favorite among A-list celebrities and editors, and they can be seen all over the red carpet and inside the pages of high-fashion editorials.
Contact: Lianne Gourji and Felicia Garay-Stanton
Phone: (212) 279-0222
# # #