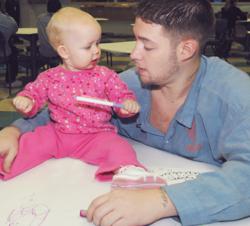 Parenting Inside Out started a cycle of success for me. Having confidence makes a real difference. I'm ready to be a parent for my kids and now I know how.
Portland, OR (PRWEB) September 25, 2012
In recently released data, the Parenting Inside Out (PIO) program demonstrated a positive impact on visitation and on building the relationships with family members that result in more visits. Parenting Inside Out is a parenting program developed by the Oregon Social Learning Center and the Oregon Department of Corrections specifically for incarcerated parents. The program has been offered in Oregon's prisons for ten years.
In a randomized controlled study (half the parents took the class while a control group did not take the class) of 359 inmate mothers and fathers done by the Oregon Social Learning Center, researchers found the following:

During incarceration, parents who took the Parenting Inside Out class reported significantly more positive parent-child contact;
For fathers, the PIO group scored higher on the factor that measured the likelihood that they would play an active role with their children after release;
The PIO group scored higher on factors that measured the inmate's ease of relationship with their child's caregiver, with those whose relationships were the most strained prior to the class reporting the greatest improvement;
The PIO group received more total family visits than did the control group.
Research over many years has shown that inmates who maintain family connections during their incarceration have a higher likelihood of successfully reentering the community. The latest study, published by the Minnesota Department of Corrections late last year, looked at data on 16,420 inmates released from 2003 to 2007. The study found a significant positive impact on reducing recidivism for inmates who received visits during their incarceration.
While criminal justice involved parents love their children, many recognize that they can benefit from learning how to be good parents. In a study of the Serious and Violent Offender Reentry Initiative (SVORI), Urban Institute researchers asked participants what they needed to succeed in the community; 61% of them listed parenting skills.
Parenting Inside Out is an evidence-based program that helps parents develop parenting skills. For example, PIO gives parents tools to improve their communication with their children through letter writing, phone calls and visits. Visits, in particular, can be very stressful for parents. In class, parents create specific plans for upcoming visits and conversations (with children and with their children's caregivers). They then role play their plans with peers and get feedback from them and from the parenting coach. Following the visit, parents can debrief in the PIO class and further examine what worked, what didn't and what they want to do going forward. Practicing real skills gives inmates a "parenting toolbox" they can use while they are incarcerated and when they return home.
Parenting Inside Out is available for purchase from Pathfinders of Oregon. The program includes a curriculum manual, student materials and training.
About Pathfinders of Oregon
Pathfinders of Oregon is a 501(c) 3 organization whose mission is to break the cycle of criminality. Pathfinders has taught programs within the Oregon Department of Corrections for 20 years. In the community it offers programs to families impacted by incarceration through its Center for Family Success, and operates an alternative education program for pregnant and parenting teens at its Pathfinder Academy.