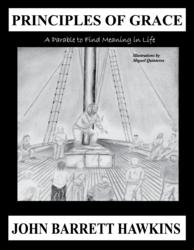 Los Angeles, CA (PRWEB) September 24, 2012
Principles of Grace: A Parable to Discover Purpose in Life, the new book by John Barrett Hawkins, provides a success formula for setting and achieving your goals in life. The book is based on Hawkins' 10-year study of human achievement.
"I wanted to learn everything I could about how the world's most successful people set and achieved their goals in life," says Hawkins. "I read countless books on the subject of human achievement, and mined them for success secrets. Along the way I took copious notes and compiled all of the most insightful information into a step-by step formula, which became the basis for Principles of Grace."
Principles of Grace is a 94-page parable. The softcover book is available at Amazon.com and the e-book edition is available through Kindle. The book provides numerous success secrets for setting goals and achieving them.
Success Secret #1:
Model successful people. Read how-to books and biographies about people who have achieved the goals that you aspired to achieve. Take notes.
Success Secret #2:
Research your field online and at the library. Get the e-mail addresses or phone numbers of people who are succeeding at your goal. Take notes.
Success Secret #3:
Pose as a writer and conduct an informative interview with the people you identified. Take notes.
Success Secret #4:
Ask these successful people if they will mentor you through a half-hour monthly phone call. When you get that call – take notes.
Success Secret #5:
Use your notes to develop a step-by step action plan for achieving your goals.
Success Secret #6:
Break your action plan down into easily achievable weekly goals.
Success Secret #7:
Create a daily to-do list in priority sequence.
Success Secret #8:
Develop a mastermind group of six goal oriented individuals who meet once a week to brainstorm ideas and help one another solve problems.
Success Secret #9:
Conduct a weekly time analysis to see how much time you are devoting to pursuing your goals and how much time is being wasted on non-productive activities such as updating your Facebook status or watching TV.
Success Secret #10:
Conduct a weekly progress analysis. Learn from your successes and failures. Refocus your vision. Reorganize. Develop a new step-by step game plan. . . And take action every day.
Him Att. Media: contact the author for interviews or review copies. Visit http://www.JohnBarrettHawkins.com/presskit for cover art, author photos, excerpts, book summary, chapter by chapter preview, mock book review, news pegs, articles written by Hawkins and more.