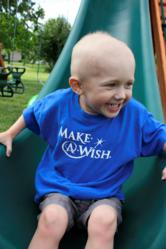 Make-A-Wish reminds us what a difference we can make in the lives of the kids in our communities.
Omaha, NE (PRWEB) September 25, 2012
Bob Leavitt, chairman of health care receivables leader General Service Bureau Inc./Early Out Services Inc., was recently named chair of the governing board for Make-A-Wish Nebraska.
"Our companies have been involved with Make-A-Wish for nearly two decades," says Leavitt, who has served on the Nebraska chapter's board for the past four years. "It's something where, once you become involved, once you see the incredible impact Make-A-Wish has not only on the kids, but also their families … it really becomes addictive. What we do is very important, very valuable and very meaningful."
Leavitt, whose one-year term began earlier this month, will oversee Make-A-Wish Nebraska's 30th Anniversary year. The chapter, which was founded in 1983, grants more than 110 wishes each year to children across the state.
"We're a leading chapter in the country," says Brigette Young, the Make-A-Wish Nebraska President. "We want the entire state to know about what our amazing donors, staff and volunteers have been doing for kids with life-threatening health conditions over the past 30 years, and to invite everyone to be a part of where we're headed during the next 30."
Leavitt says the chapter wants to recruit 30 new "Adopt a Wish" partners along with getting more than 3 million frequent flier airline miles donated during the next 12 months. Make-A-Wish's single biggest expense is purchasing airline tickets to fly children and their families to Wish destinations like Walt Disney World, Hawaii and elsewhere.
"I'm proud of the fact that we've never had to turn down or delay a Nebraska child's Wish request due to a lack of funding," Leavitt says. "But the unfortunate reality is that we're granting a record number of Wishes each year, and we continually need to raise more and more funds to help pay for them."
The average Wish for a child costs approximately $7,500, according to Young. She says the Nebraska Chapter granted nearly 115 wishes during 2011, and that the number continues to rise each year.
"This is a big year for us, filled with significant goals and challenges," Young says. "And I can't think of a better person to lead us through it than Bob Leavitt. He and General Service Bureau Inc./Early Out Services Inc. have been supporting Make-A-Wish Nebraska kids for nearly two decades. It's so inspiring to see the amount of passion, emotion and energy that Bob brings to our board. His enthusiasm and dedication is contagious."
Leavitt says that growing up in the family-owned, health care receivables companies General Service Bureau Inc./Early Out Services Inc. - started in 1946 and purchased by his father in 1974 - has taught him the value of giving back to the community.
"Our health care receivables companies were founded on finding ways to improve and enrich the lives of the people we came into contact with every day," he says. "That's why we've won three Better Business Bureau Integrity Awards and received so many industry accolades. It's about treating people the right way. And being a part of amazing organizations like Make-A-Wish helps fuel that mentality while reminding us what a difference we can make in the lives of the kids in our communities."
ABOUT GENERAL SERVICE BUREAU INC./EARLY OUT SERVICES INC.
Early Out Services, Inc. (EOS) and General Service Bureau, Inc. (GSB) are two separate companies that operate under the same mission of "Enhancing the Financial Well-Being of Others." EOS and GSB collectively comprise a family-owned and operated business. Since 1946, the Omaha, Nebraska-based group has been a leader in health care debt collection and receivables management services for health care organizations nationwide. EOS delivers first-party, self-pay management and insurance follow-up/resolution programs to the health care industry, operating as an extension of the business office, while GSB provides third party, bad debt recovery services to the health care industry.
ABOUT MAKE-A-WISH NEBRASKA
Since 1983, the Make-A-Wish Nebraska chapter has granted more than 2,000 wishes to children across the state. Its mission is to grant the wishes of children with life-threatening medical conditions to enrich the human experience with hope, strength, and joy.