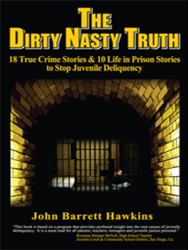 Los Angeles, Ca. (PRWEB) September 27, 2012
When John Barrett Hawkins was incarcerated at R.J. Donovan State Prison in San Diego, he participated in a youth intervention program called CROP. CROP was founded on the belief that the most effective way to deter juvenile delinquency is through story-telling. CROP was a public speaking forum, where prison inmates gave personal testimonies concerning drug use, gangs, bullying, crime, self-esteem, and life in prison – before large groups of teens – who were brought into the prison by parents, teachers, and juvenile justice personnel.
As a member of CROP at Donovan, Hawkins studied the other convicts personal testimonies in hope of becoming a more effective public speaker. Through this study, Hawkins discovered essential information for deterring kids from joining gangs that he wanted to share with the general public. These discoveries inspired him to write a book titled The Dirty Nasty Truth: 18 True Crime Stories to Stop Juvenile Delinquency.
"There are more than 1 million youth gang members in the United States," says Hawkins. "Unfortunately, youth gangs are one of those problems that get swept under the rug. The thing nobody ever thinks about is that the youth gang problem is turning innocent children into thugs and criminals."
One of Hawkins goals in writing The Dirty Nasty Truth was to provide essential information about youth gangs that parents, juvenile justice personnel and school teachers can use to keep kids safe.
What factors draw kids to gangs?

A sense of importance
Having power over others
Exciting, stimulating to the mind
Strike terror and fear in others
Self-rule, lawlessness
Feeling accepted and recognized
Better to be included than excluded
Prefer to be victimizer than the victim
Money, parties, drugs, sex
A sense of acceptance and belonging
Feel safe in a crowd
Have a sense of purpose
In the Dirty Nasty Truth Hawkins provides a list of the harsh realities about youth gangs that every teen should know.
What to expect when you join a gang:
Rival gangs will attempt to kill you
Police will harass you constantly and arrest you
The gang always comes first
You will be obligated to fight, stab, and shoot people every day
You must be alert and be prepared to be attacked at any time
You will engage in illegal and dangerous activities that will eventually land you in prison
People will hate you
No one will trust you
You will place your loved ones in danger
Your house will be shot at
You will cause your family immense sorrow and worry
You will not be allowed to express your real feelings
The gang will control every aspect of your life
You will adopt your friends' bad habits
You will become addicted to all kinds of drugs
You will not be allowed to make your own choices because a shotcaller will always tell you what to do
You cannot ever take your little brother or sister to a park
You cannot have a regular job because your rivals will recognize you
Att. Media: contact the author for interviews or review copies. Visit http://www.JohnBarrettHawkins.com/presskit for cover art, author photos, excerpts, book summary, chapter by chapter preview, mock book review, news pegs, articles written by Hawkins and more.