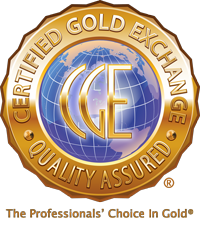 CGE analysts expect at least 50% growth in 2013 which could bring Apple shares over $1,000.
New York, NY (PRWEB) September 24, 2012
Every year, the Certified Gold Exchange announces its Top 3 Investment Forecast for the upcoming year. These are the best of the best investments as analyzed and projected by economic analysts at the Certified Gold Exchange. Please enjoy the 2013 Top 3 Investments, and feel free to request your copy of Real Money Magazine for the full list of the 25 top picks:
1. Apple – The technological powerhouse has doubled its share value in the past 12 months from $350 to $700 as a result of the success of the iPod, iPhone and iPad. Apple holds the top rating at EquityAnalytics with an overall score of 87/100 with strong scores in Growth, Financial Health, and Profitability. As a result of higher sales and overseas growth, the Certified Gold Exchange's top analysts expect at least 50% growth in 2013 which could bring Apple shares over $1,000.
2. Physical Gold – When it comes to safe-haven short-term profit and long-term wealth preservation, few investors can disagree that gold is the way to go. The precious metal has increased over 7,500% in the past century and it's shining brighter than ever before. Several bullish projections from Agora, Barrick Gold, Capital Economics and the Certified Gold Exchange have forecasted $2,000-$3,500 per ounce of gold in the coming years.
3. Gold Stocks – Besides owning physical gold, which is always more secure, gold stocks have become a viable alternative since they are a "hands-free" method of gold ownership. With the precious metal climbing over 525% since 2001, owning some type of gold is probably a good idea.
John Halloran, President of the Certified Gold Exchange says "This weakening economy can be a real curse for investors. Those looking to come out on top need a perfect balance of profit and protection. Apple stocks with a solid combination of physical gold and gold stocks could be the key to a growing investment portfolio in 2013."
The Certified Gold Exchange, Inc. (CGE) is North America's premier precious metal trading platform backed by a solid PriceMatchPlus® Guarantee. For more information, call CGE at 1-800-300-0715 or visit http://www.CertifiedGoldExchange.com today.