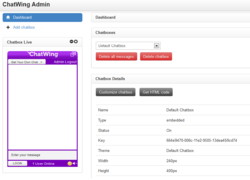 Houston, TX (PRWEB) September 20, 2012
Houston, TX- Chatting has provided online users worldwide a free and effective avenue to connect and interact. Chatting activities have permitted worthwhile exchange of ideas and opinions among web surfers globally. Chat tools have also allowed online entrepreneurs and bloggers reach their target market and readers in a cost effective manner. Chatwing team, with its four years of experience in creating efficient chat box, introduced a reliable chat widget that is easy to install and free of any charge.
This free chatbox is intended and developed to address the evolving needs of the general web surfers when it comes to chatting. Chatwing development team has also ensured that users can easily use and take advantage of the communication leverage their chat widget offers. Its simple interface makes embedding simple and easy to accomplish. It only takes less than a minute to install the widget, depending on the user's preferences. CSS customization option allows for a much advanced chatbox alterations. After embedding the chat app to one's site, engaging site visitors and blog readers will be hassle-free.
Chatwing development team also designed the free chat widget to be flexible enough to adapt to the unique needs of bloggers. Its three available shoutbox styles cater large scale and small scale private chats. For bloggers and marketers who want to reach more online users at once, the regular shoutbox form can handle hundreds to a thousand users with its stable platform. For online users who want to communicate with selected individuals, the direct link URL option makes the set up possible. A unique username and shortlinks are provided, which can be shared to chosen chat buddies, initiating a group chat.
Another useful feature of this free chatbox is the social media integration. This feature allows any user to join chat discussions any time by just providing their Facebook or Twitter accounts. Increasing the number of friends in through Facebook and Twitter will become easy with the Chatwing chat app.
About Chatwing.com
Chatwing.com specializes in the new field of website chat. Over years, the Chatwing team has introduced live chat widget for hundreds and thousands of blogs. The Chatwing application bridges people from many parts of the world, creating global synergy through the Internet. The shout box can be installed in just seconds, and it can be used for varying purposes such as leisure and Internet marketing. It also allows a user to customize the size, color, and name of the widget. Chatwing is 100% free for everyone.