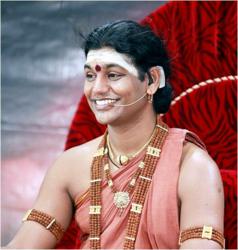 Essence of Human Life is to be Overflowing. Establish yourself in millions of hearts by caring, serving, sharing, reaching out, you will have the inner richness of life.
Los Angeles, CA (PRWEB) September 21, 2012
Paramahamsa Nithyananda says, "I tell you neither capitalism, nor communism, nor socialism can give the right economical solution and wipe out poverty on planet earth. Only the sacred verse by Bhagwan Krishna from Bhagavad Gita, Chapter 6, verse 20, can give the right solution for all the problems in the society. It should be understood that anything one cannot enjoy should not be owned. If one can enjoy a house, then have it. If one can enjoy food, then have it. If one can enjoy clothes have it. A rich man should never be the reason for one's jealousy because he is not the reason for poverty. Poverty comes to planet earth not because the wealthy people accumulate what they can enjoy, it comes only when money is blocked and kept in hiding stacked away without being used for enjoyment or growth of the society. It is blocked money that becomes black money."
Paramahamsa Nithyananda suggested that everyone should own, only what they can enjoy and not what they cannot enjoy. If they own something that they cannot enjoy, then it is time to open and let it go.
He said, "It is the middle class people who are flowing, enriching and keeping the society alive. They are the people who are making money and spending on what they enjoy. The society's suffering is not due to lack of anything, it is due to blocking of everything. Living happily, itself is a great service. Society needs immediately people who will live and have what they can enjoy."
Paramahamsa Nithyananda said, "Bhagwan Sri Krishna by using the word SEVA in this sacred verse number 20, from Chapter 6 of Bhagavad Gita, is saying one needs to be useful to society by serving though intense actions. When one fills their Being with the service, with intense action, then one can settle down with peace joy and enlightenment. As a rule, whatever one receives from society will be taken out of oneself either voluntarily or forcibly. One needs to develop the attitude of seva (service to humanity), to give back to the humanity without continuously grudging, judging, screaming and getting agitated. But it is only when a person is mature the concept of seva can be introduced to that being. One should take up seva (serving others) as a lifestyle through intense action.
One needs to have the attitude of a happy bridge under which the water flows to serve humanity. The essence of human life is overflowing. Overflowing that which overflows, that excess flow needs to be renounced gracefully with the attitude of SEVA to put one's own self at home."
In response to a question from one of the devotees who was overflowing with gratitude for the blessings and miracles in his life which he has received from His Holiness, Paramahamsa Nithyananda said, "The quality of river is to be flowing. But what you are attributing to me as something great, is my life style. I am not doing some great sacrifice as you say when I listen to your problems or by blessing, healing, uplifting, transforming and initiating people. It only makes my inner being rich. When one becomes more and more useful to society one becomes rich in personality. My richness is the thousands and millions of teary eyed followers who are overflowing with gratitude day after day just to have a glimpse, a solution, a teaching, an initiation or a healing blessing. My richness is not in how many centers there are in how many countries, it is based on how many individual's hearts I am centered in.
Nobody can destroy my richness, because I am already established in millions of hearts. I tell you, be like a river! Establish yourself in millions of hearts by caring, serving, sharing and reaching out. You will have the inner richness of life."
Paramahamsa Nithyananada will be embarking on a 2012 Awakening world tour, conducting programs in several major cities around the world, including Turkey, UK, France, Spain, Guadelope, Mexico, Canada, among others. With interactive sessions, mind-body healing techniques, powerful energy initiations and the 2012-intensive reading of Akashic Records, a day with Paramahamsa Nithyananda promises to open the door to a world of transformation for you.
Itinerary for the 'Awakening the World' Tour 2012: http://worldtour.nithyananda.org/awakening-the-world-tour-itinerary-2012/
More information on the 2012 Phenomena: http://www.prweb.com/releases/2012/9/prweb9908651.htm
Free Worldwide Webinar on Kundalini The Mystery & Science: http://www.youtube.com/watch?v=yi8wxQzw_lI&feature=player_embedded
Health Benefits of Kundalini Awakening: http://innerawakening.org/researchonkundaliniawakening/healing-of-physical-ailments
For Just 108 Key Topic Videos: http://www.youtube.com/108nithyanandavideos
About His Holiness Paramahamsa Nithyananda:
His Holiness Paramahamsa Nithyananda is a world teacher in yoga, spiritual healing, kundalini awakening and enlightenment sciences. As the spiritual head of the world's oldest Hindu establishment*, he is revered as an incarnation of superconsciousness by millions worldwide. Paramahamsa Nithyananda has been named among the world's top 100 spiritual leaders by reputed esoteric magazine 'Mind Body Spirit' from Watkins of London.
Paramahamsa Nithyananda embarks on a '2012 Awakening the World' tour this November. With transformational talks, mind-body healing techniques and individual initiations, he empowers us to manifest our highest inner power, and discover a life of material and spiritual abundance.
*1500-year-old Madurai Aadheenam
A recent survivor of religious & linguistic persecution and unlawful imprisonment in his own country, Paramahamsa Nithyananda has emerged still stronger from the attack, and continues to reveal to the world the deeper dimensions of the ancient mystic disciplines of the East.
For close to a decade now, Paramahamsa Nithyananda has been working with scientists and researchers to demystify the yogic sciences of the East, including kundalini awakening, DNA activation, brain-cell regeneration, levitation, materialization and yogic age-reversal. He has also offered his own body and mind for the scientific study of the state and science of enlightenment.
Nithyananda Mission is committed to creating a better world for us and for the future. We offer our socio-spiritual services through a network of organizations in India and worldwide. Paramahamsa Nithyananda himself envisions the emergence of an enlightened global civilization that will remain powerfully anchored in spirituality while excelling in the world.