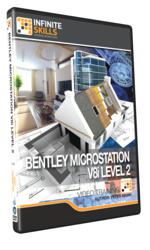 Take your Microstation skills to the next level
(PRWEB) September 22, 2012
Software training provider InfiniteSkills Inc. last week introduced its Bentley MicroStation V8i Level 2 Tutorial DVD, an advanced training course for Bentley's powerful computer-assisted design (CAD) program and followup to the company's beginner MicroStation training series.
MicroStation is a two and three-dimensional modeling program for industrial design and rendering. It offers immersive interaction with both 3D and 2D designs. Its graphic rendering capabilities include boolean solids, ray tracing, and keyframe animation. MicroStation also boasts a highly customizable workspace, with different layout options for architects, civil engineers, mapping and plant design, among other uses.
InfiniteSkills' Bentley MicroStation V8i Level 2 Tutorial DVD - Video Training is specially geared to help experienced users get the most out of MicroStation's powerful features. The course explains in detail how to customize MicroStation for specific design situations, as well as how to use its project management features to best suit individual business needs.
Bentley MicroStation V8i Level 2 Video Training
Additionally, InfiniteSkills is offering a MicroStation training bundle, including MicroStation V8i Level 2 Tutorial DVD and the introductory course, Learning MicroStation V8i, at a discounted rate. The combined package is designed to present a complete trajectory of training, from beginner skills to full professional workflows.
Course author Peter Mann currently teaches at Mohawk College of Applied Arts and Technology at Hamilton, Ontario. He has been writing MicroStation instruction textbooks since 1998. He has 11 titles to his credit.
In the Bentley MicroStation V8i Level 2 Video Training - DVD, Mann covers extended techniques that go beyond basic use, including advanced level dimensioning, annotation, and file and model reference capabilities. Mann also demonstrates the program's powerful capabilities for many levels of data attachment and project management.
The MicroStation training also features numerous lessons on high-level drawing tools. Users will learn how to work with complex elements and regions, use key-ins, cells, smart lines and complex chains.
To close the tutorial, Mann explains several hard-to-find but highly effective MicroStation capabilities including how to use the auxiliary coordinate system. The overall emphasis of the course is on improving users efficiency and overall understanding of the program's professional toolset.
Free demo videos and a full list of course contents can be found on the Bentley MicroStation V8i Level 2 Tutorial DVD - Video Training training page of the InfiniteSkills website:
http://www.infiniteskills.com/training/bentley-microstation-v8i-level-2.html
InfiniteSkills offers its Bentley MicroStation V8i Level 2 Video Tutorial either as a DVD-ROM or a direct download from the company website at a retail price of $99.95 USD. The bundle, including the introductory course, is available for $149.95 USD, providing fifty-percent off the price of the beginners' course.
All InfiniteSkills titles and formats are compatible with Mac and Windows operating systems, and buying and shipment options are available around the globe. Additionally, InfiniteSkills tutorials are supported by project files which correspond to examples in the videos, allowing users to work alongside their instructors while watching the training on their computer or mobile device.
About InfiniteSkills Inc.
A leader in the field of software training, InfiniteSkills strives to offer the highest quality training available at an affordable cost. InfiniteSkills tutorials are task-oriented instructional videos, teaching complex skills by providing hands-on examples and guiding users as they carry out critical objectives. InfiniteSkills offers a comprehensive range of software titles available as DVDs, digital downloads, as well as iPad editions--keeping with company aim of delivering professional training to customers anywhere they want to learn.