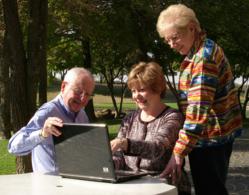 Our generation needs to get with the program. There is a need to become computer savvy.
Plano, TX (PRWEB) September 25, 2012
Computer School for Boomers & Seniors is now accepting enrollments and is on a mission to help Grandma and Grandpa become more computer literate. "I have a grandson who knows more about computers at six than I did when I was fifty," said Mimi Witcher, Founder of CS4Seniors (http://www.cs4seniors.com). "My grandchildren are growing up with technology. They have computers, IPads, Smartphones and IPods. They text, surf and click all day long. We missed out on all that," said Mimi. "But our generation needs to get with the program. We need to become computer savvy."
Computer School for Boomers & Seniors is a virtual campus with a mission to empower their students by providing encouragement, lifelong learning opportunities and new worlds to explore via the Internet. "I'm very serious when I say there is a need. Just look at what is happening all around us," said Mimi.

Perhaps no group of people was hurt more during the global economic "downturn" in 2009 than Boomers and Seniors. Many can't afford to retire and many were laid off and can't find another job. According to the GAO, as of July nearly two million older workers, 6.2 %, were seeking a job.
When the GAO looked into senior unemployment, it found that employers assumed older workers would demand higher salaries, they would be uncomfortable reporting to younger bosses and they would lack computer skills.
AARP reports that older workers need to become more computer savvy just to apply for a job since more companies are requiring applicants to apply online.
South Carolina's unemployment agency is yanking benefits from thousands of people who are not searching for work through the agency's website as a way to verify they are looking for work as required. This is a double whammy for seniors without computer skills. They can't apply for a job online and they can't collect unemployment because they don't know how to get online.
By March 2, 2013 all Social Security checks will be deposited electronically.
Recipients are encouraged to check on their benefits online. Michael J. Astrue, Commissioner of Social Security, announced last June that in less than two months' time, one million people had gone online, created a My Social Security account and viewed their Social Security Statement.
Mimi taught seniors for eight years in the classroom in the Emeritus Program at Richland College in Dallas, TX. She went from taking classes…to teaching classes…to Teacher of the Year. Now she's teaching Boomers and Seniors online from all over the world. "Why? Because having computer skills can connect you to your friends, family and the world while not having computer skills can disconnect you," encouraged Mimi.
Computer School for Boomers & Seniors has the largest selection of online computer Lesson Plans created specifically for Boomers and Seniors. http://www.cs4seniors.com