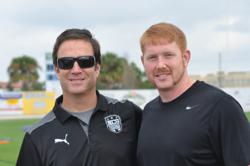 With football season in one or two weeks for most high school specialists, ensuring they have the best program in place is key. Michael Husted
San Diego, CA (PRWEB) September 21, 2012
This week, retired NFL kicker and current kicking coach Michael Husted offers 'In Season Training' tips for kicking specialists in his kicking blog Michael Husted.com.
"With football season in one or two weeks for most kicking specialists, ensuring they have the best training program in place is key," says Husted. "How kicking specialists train for kicking, lifting and running during the week and on game day is different from pre-season training."
Go here for Michael Husted's 'In Season Training' blog at Michael Husted.com
As a retired 9 Year NFL kicker, Husted has experience in what he coaches.
His consistency on field goals and power on kick offs won him the job as an undrafted rookie. Michael went on to have a successful rookie season where he was named to Football Digest's All Rookie team.
During his time with the Tampa Bay Bucs, Michael established several records including:
•All-time leading scorer (502 pts.)
•Longest field goal (57 yards)
•Most 50+ field goals (10)
Husted likes to bring his NFL experience to his coaching whenever it can help a kicker or help make a specific point. Husted does this in his 'In Season Training' blog post.
"When I was with the Oakland Raiders, Jon Gruden told me that kickers are like snipers and sharp shooters," says Husted. "He said we only get so many opportunities and that we have to come through in those situations. He is absolutely right."
Husted adds, "As a kicking coach and consultant, I develop in season plans for my clients. It is easy to go out and kick too much and yet, not get better. It isn't about the quantity of kicks, but the quality of kicks that really matter. When I was in high school, I didn't have access to professionally organized training plans. That is one of the reasons why I have started consulting with specialists all over the country."
Husted consults with specialists throughout the country using his kicking consulting business Husted Kicking and also the National Camp Series (NCS).
The National Camp Series, which Husted developed for high school kicking specialists, is a platform objectively measures kickers, punters and long snappers through statistics which takes out all subjectivity in the evaluation process.
Husted says that by utilizing its Kicking IndeX (KIX) Player Rating System, NCS provides an objective evaluation platform for student-athletes who want to showcase their capabilities to colleges and universities for recruiting purposes.
By sorting through over six years of historical event data, the KIX system determines a kicker's rankings by cross-referencing player data to determine how the athletes stack up against others, both presently and historically.
"The NCS levels the playing field for those who don't want to get caught up in all of the 'politics' that occurs in the kicking industry," says Husted. "If you can kick, punt or snap, the NCS KIX system will let a young kicking specialist's skills speak for themselves. No excuses. No explanations."
Husted adds the NCS is not just about player rankings, but quality coaching as well.
Go here for Michael Husted's 'In Season Training' blog at Michael Husted.com
Click here for more information about the National Camp Series and the dates and location of upcoming NCS events.
Click here for more information about kicking coach Michael Husted.