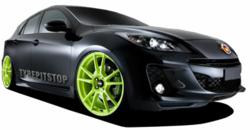 Mag Wheels makes a statement about you and your car especially coloured.
Sydney, NSW (PRWEB) September 26, 2012
Tyrepitstop have just taken delivery of a new 2013 collection of mag wheels, a collection that not only has some of the best looking mags around but also offers unbeatable choice and value for motoring enthusiasts.
When asked to highlight the defining features of the new range Tyrepitstop proprietor, Jeff Parker said "Colour and range, without a doubt."
"There is no doubt that the look for your car this year is coloured mag wheels. Not just any colour but bold and striking colours on the most amazing spokes and rims. Coloured Mag wheels that really make your car look special and that scream for attention," Jeff added.
Importantly Tyrepitstop have mag wheels from all the leading manufacturers, choose the mags that are right for any car from names such as Advanti, Enkei, Konig, Petrol and many more.
"Nothing turns a good car into a great car like a great set of mag wheels. A great set of mags makes a statement about you and your car. A great set of mags is also one of the most affordable ways to customise your car and make it stand out," Jeff related.
Buyers in the market for mag wheels simply must talk to Tyrepitstop. Whatever their needs and preferences Tyrepitstop has the mag wheels to make any car standout. Price, range and expertise Tyrepitstop has the entire package for motoring enthusiasts.
The best way for buyers to view the Tyrepitstop 2013 collection is to visit http://www.tyrepitstop.com.au and see the unbelievable range of styles, sizes and colours. Motoring enthusiasts won't believe the Advanti Samurai Green, Yellow and White or the Storm 1 Full Orange Wheels.
"And the good news doesn't end there!" added Jeff. "To make way for our 2013 range of mag wheels we are holding a stocktake sale on a selection of our existing mag range all at sensational prices and available for immediate fitting."
"Buyers shouldn't delay because stocks of existing mags are limited and once they are gone that is it." Jeff concluded