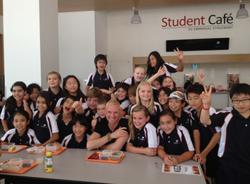 Stamford and ESG have taken a different approach – designing this facility from the ground up to ensure every kid gets the right nutrition and energy they need to perform at their best each day.
Singapore, Singapore (PRWEB) September 21, 2012
In the same way Jamie Oliver changed the way teachers and parents in the UK thought about children's food, Emmanuel Stroobant, Singapore's own Chef in Black has started a revolution in the way children eat at school.
Stamford International American School (Stamford) today announced it has partnered with one of Singapore's most respected restaurant groups, the Emmanuel Stroobant Group (ESG), to run its school cafeteria!
But this cafeteria is unlike anything seen in Singapore or the region. It is part of Stamford's new $300 million 'super' campus, and is powered by a state-of-the-art kitchen that allows restaurant quality meals to be prepared from scratch right on the campus. Stamford's new campus is designed to be the most advanced learning environment ever built.
At the Student Café by Emmanuel Stroobant, every student can get a restaurant quality 3-part lunch prepared by Emmanuel and his talented team of chefs. There is even a choice of three menus – Asian, Western or Vegetarian. And the meals really are 'Brainfood', designed to give children the nutrition they need to succeed in their academically rigorous studies.
Mr Malcolm Kay, Superintendent of Stamford said nutrition is critical to children's ability to learn.
"In my 30 years as a professional educator I have always considered it to be of paramount importance to give children an educational edge with good nutritious food. We wanted to create the best dining experience ever built in a school, and that's why we approached ESG and Chef Stroobant."
"Many school canteens offer a mixture of sugary foods which make the children agitated and unable to concentrate, or calorie-dense foods high in fat and carbohydrates which can make children lethargic and sleepy."
"Stamford and ESG have taken a different approach – designing this facility from the ground up to ensure every kid gets the right nutrition and energy they need to perform at their best each day."
Chef Stroobant (whose new television series '36 Ways To Live' just commenced screening in Singapore) said he developed the concept after studying nutritional data from around the world. "Good school food doesn't have to be dull or taste terrible. It can be exciting and inviting," he said.
"We decided to rethink and redefine what a school cafeteria is, including how food is prepared, what is served, how it is presented and the styles offered. We even rethought the way children line up and pay for their meals."
"Our strategy is to inculcate good and healthy eating habits at a young age. A study by the Department of Food Science at the University of Copenhagen showed that mere exposure is a powerful strategy to change children's acceptance of a novel vegetable. This implies that if you expose children to various kinds of food at a young age, they will be more receptive to the food accordingly."
"As we control the food preparation at every stage we can do many smart things that traditional school cafeterias cannot. For example, we hide the veggies in the soups or in fruit based desserts. The first part of the meal is usually a vegetarian soup. Our plan is to introduce salads. Vegetable sticks and home-made dips as the children's palates develop. Our desserts are really cleverly disguised fruits. A strawberry pancake is really strawberries and very little pancake."
"All food is prepared fresh from scratch and served just prior to being eaten, so there are no bain-maries sitting under heat lamps keeping the food warm. The emphasis is on freshness, presentation and nutrition. The days when soggy greens were left hidden under mashed potato on the side of the plate are over," Chef Stroobant said.
THE BRAINFOOD MENU AND DINING EXPERIENCE

Ingredients sourced from the best local and/or organic suppliers wherever possible
Offers a daily 3-part Asian, Western and Vegetarian menu consisting soup, lunch and dessert
Vegetables incorporated in soup and fruit-based desserts to reduce fussy eating habits
Balance of carbohydrates and protein with fresh/organic ingredients
Menu changes on a monthly basis, subject to availability of seasonal ingredients and themes
Wide selection - dishes will not repeat within the same month
Food presented in attractive re-usable containers – making it environmentally friendly
Kids are supervised so they sit down and eat, ensuring they digest their food properly
Can serve up to 1,000 kids a day, in two sittings
It is a cashless system, where each child pays by using their own personal wristband with credit loaded in by parents.
Each meal is $9.00
ABOUT STAMFORD
Stamford American International School (Stamford) is the new benchmark for excellence in international education in Singapore. With its experienced team of educators, cutting-edge facilities and rich cultural diversity, there is no better way to prepare students for a competitive and fast changing world.
Stamford's academic curriculum prepares students for entry into the world's top universities. Stamford is the first school in Singapore to offer students both the International Baccalaureate (IB) Diploma and the American Advanced Placement (AP) Diploma – giving students an international experience with an American foundation. Stamford also excels in the teaching of languages offering Mandarin and Spanish classes on a daily basis, beginning when students are as young as teo years old.
Stamford has the most experienced and qualified team of educators at international schools in Singapore. Superintendent Malcolm Kay is the most experienced IB educator in Singapore, with more than 30 years experience. Together with his senior team, Mr. Kay has helped more than 5,000 students enter prestigious universities including Oxford, Cambridge, Harvard, Yale and UCLA.
The faculty is one of the most highly qualified of any international school in the world: 55% have a Master's Degree including 100% of the Middle School teachers. 100% of the faculty is IB trained and more than 80% have international teaching experience.
ABOUT THE EMMANUEL STROOBANT GROUP
Saint Pierre, the brainchild of Chef Emmanuel Stroobant and his wife, Edina Hong, opened its doors in December 2000. Since its opening, Saint Pierre has won several prestigious awards and has the singular honour of being the only restaurant in Singapore accorded membership to the world renowned Relais & Chateaux association in Europe on 1st January 2008.
Apart from whipping up exquisite, modern French cuisine within its flagship restaurant, Saint Pierre, the Emmanuel Stroobant group also owns a series of restaurants including Rocks Urban Grill + Bar, a contemporary restaurant located in the financial district, Brussels Sprouts, a Belgian bistro offering a rich variety of Belgian beers and mussels, Picotin, a French-European brasserie nestled in the greenery of Bukit Timah area and Sque Rotisserie & Alehouse, a casual dining bistro situated along the Singapore River.
In August this year Emmanuel Stroobant partnered with Stamford American International School to open the Student Café and Stamford Café (for parents) offering healthy choices for school meals.
Chef Stroobant is also an author, television celebrity and consultant to several food and beverage establishments in Singapore and abroad.