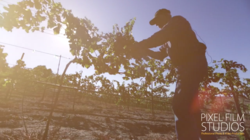 Our team was visiting Temecula a few weeks ago, enjoying some wine tasting at Leoness Winery and saw a flyer for a video contest
Temecula, California (PRWEB) September 22, 2012
Temecula wine country is quickly catching on as a hot-ticket tourism destination in sunny Southern California. This bucolic stretch of Riverside is today home to more than two dozen wineries and a popular food and wine festival that draws hundreds of curious oenophiles each year.
For the first time ever, Temecula Valley launched a summer-long Video Contest. Amateur and pro filmmakers alike were invited to submit a short video demonstrating that "Temecula Valley is Southern California's wine country." The grand prize is worth $4,000 and includes a wine country weekend for two, plus $2500 in cash!
When Pixel Film Studios decided to submit their short film, they never expected this kind of buzz. Over 50,000 Views within 3 days of release.
"Our team was visiting Temecula a few weeks ago, enjoying some wine tasting at Leoness Winery and saw a flyer for a video contest. We looked at each other and thought that would be fun." said Christina Austin of Pixel Film Studios. "Joel Reese, the Marketing director at Leoness Cellars was incredibly enthusiastic and helped to make this all possible".
Wineries in Temecula have been quick to respond to the area's new popularity, with many boasting sprawling grounds and spacious tasting rooms. Wedding facilities are also common at wineries, as are lodging accommodations, live music venues, and seasonal events.
Visitors to Temecula can also indulge in balloon rides, golf and spa treatments or forage for treasures at the area's more than 600 antiques dealers.