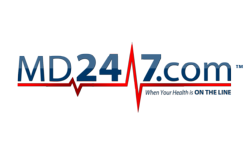 MD247 Reviews The Reason For Telemedicine.
Tampa Florida (PRWEB) September 21, 2012
Telemedicine provider MD247 asked a cross-section of the public today if they have ever been in a position where illness strikes, either themselves or a loved one, leaving the person feeling terrible and looking for the advice of someone capable of providing an expedient course of treatment? MD247 understands it is frightening to chart the course alone, trying to sort through the advice of well-meaning friends and the abundance of over-the-counter medications ranging from a quick fix to something which may work. The end result of illness for most of people is often either a "wait and see" mentality, which leaves one emotionally and physically drained, or a bank account draining "urgent care awaits" mentality. Neither option provides a patient, or caregiver, with the kind of satisfaction and peace of mind they really need but most people do not realize that there is a better answer. With this, MD247.COM introduced the public to the MD247 telemedicine program.
MD247 explains that telemedicine is the use of telecommunication and information technologies in order to provide clinical healthcare quickly at a distance. MD247 explains that telemedicine helps eliminate distance and barriers to medical service, and can improve access to medical resources that would often not be consistently available in distant rural communities.
MD247 explains that when each is considered on its own, the problem of no medical assistance and telemedicine do not seem to fit together until such time as you look at a telemedicine provider like MD247. Telemedicine within the MD247 program is brought to a public specifically looking for either an inexpensive way to treat non-emergency medical situations, like bronchitis, or it is brought to people looking for a supplement to their exisiting health insurance. The telemedicine program takes all of the best aspects of the practice, like being able to talk to a doctor over great distances, and matches the service with technology that everyone can afford like a standard landline telephone in their home. MD247 makes it possible for worried parents, college students with an upper respiratory infection or middle aged men looking for a discreet doctor all to have someone they can talk to and get questions answered.
Telemedicine under the MD247 program could end with a patient getting to talk to a nurse to reassure themselves over a course of treatment, but the telemedicine program takes things to the next level by also providing prescription refills. This is not the telemedicine version of a pill mill, meaning that MD247 telemedicine program doctors do refill prescriptions but will NOT refill or prescribe narcotics. The service is meant to make life easier, providing a prescription for antiobiotics for instance, not to create a generation of pill-poppers looking for their next fix via their friendly telemedicine Talk to a Doctor Hotline. The prescription service available has the added bonus of including a prescription discount card, which can get members of the telemedicine program in excess of 50% off of a particular prescription.
If a patient puts all of these components into a single shopping cart, they will note that the MD247 telemedicine program takes that frightened and ill person that everyone has been and hands that person the keys to power. The authority in the hands of the patient is the power to leverage the technology in their own homes, in order to expediently deal with medical problems. With telemedicine from MD247 there is no need to be sick or scared.
Largo Florida based MD247.COM (MD247; MD/247; MD 247; M.D.247; MD-247) provides an affordable telemedicine supplement to existing healthcare services. MD247.COM telemedicine program members have unlimited telephone access to a nationwide medical support team, all with just a single phone call to the MD247.COM telemedicine Talk to a Doctor/Talk to a Nurse Hotline. MD247.COM has a virtual platoon of registered nurses; board certified physicians and a support staff available to members for all non-emergency situations. More information about MD247.COM is available online at http://www.md247.com.