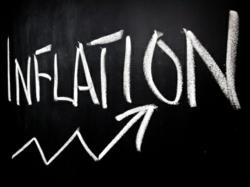 "It is the biggest rise in inflation in more than three years," notes Lombardi. "The inflation in wholesale prices in the U.S. economy in August was mainly due to a hike in energy prices—6.4%, the biggest monthly increase in three years."
New York, NY (PRWEB) September 25, 2012
Michael Lombardi, financial expert and lead contributor to Profit Confidential, says that if you were thinking that inflation is not an issue facing the U.S. economy, think again. Lombardi reports that the U.S. economy is facing inflation following the recent announcement of another round of quantitative easing (QE3) by the Federal Reserve and the value of the U.S. dollar could be destroyed. According to Lombardi, this spells disaster for the already crippled U.S. economy.
"As the U.S. dollar declines in value against other world currencies, goods imported into the U.S. become more expensive," says Lombardi.
In the article "QE3: Creates Inflation, Erodes the Dollar, Doesn't Help Joe America," Lombardi points to the Producer Price Index (PPI) as wholesale prices saw 1.7% inflation in August.
"It is the biggest rise in inflation in more than three years," notes Lombardi. "The inflation in wholesale prices in the U.S. economy in August was mainly due to a hike in energy prices—6.4%, the biggest monthly increase in three years."
In Lombardi's opinion, the Federal Reserve wants inflation: "That's the whole purpose of QE3," he says, "to create inflation so asset prices go back up. But it is backfiring. Yes, the stock market is rising. Yes, the prices of goods are rising. But the most important inflation goal—creating jobs and increasing wages—eludes the average American."
Lombardi points out that all of this money printing will eventually result in higher inflation and will hit the U.S. economy like never before.
"Food and gas prices are already on the rise in the U.S. economy. The average American will pay more for basic needs," reports Lombardi. "We already have an increasing number of people going on food stamps, because they can't survive without them."
With QE3, Lombardi claims that the U.S. economy could be headed toward total disaster.
Profit Confidential, which has been published for over a decade now, has been widely recognized as predicting five major economic events over the past 10 years. In 2002, Profit Confidential started advising its readers to buy gold-related investments when gold traded under $300 an ounce. In 2006, it "begged" its readers to get out of the housing market... before it plunged.
Profit Confidential was among the first (back in late 2006) to predict that the U.S. economy would be in a recession by late 2007. The daily e-letter correctly predicted the crash in the stock market of 2008 and early 2009. And Profit Confidential turned bullish on stocks in March of 2009 and rode the bear market rally from a Dow Jones Industrial Average of 6,440 on March 9, 2009, to 12,876 on May 2, 2011, a gain of 99%.
To see the full article and to learn more about Profit Confidential, visit http://www.profitconfidential.com.
Profit Confidential is Lombardi Publishing Corporation's free daily investment e-letter. Written by financial gurus with over 100 years of combined investing experience, Profit Confidential analyzes and comments on the actions of the stock market, precious metals, interest rates, real estate, and the economy. Lombardi Publishing Corporation, founded in 1986, now with over one million customers in 141 countries, is one of the largest consumer information publishers in the world. For more on Lombardi, and to get the popular Profit Confidential e-letter sent to you daily, visit http://www.profitconfidential.com.
Michael Lombardi, MBA, the lead Profit Confidential editorial contributor, has just released his most recent update of Critical Warning Number Six, a breakthrough video with Lombardi's current predictions for the U.S. economy, stock market, U.S. dollar, euro, interest rates and inflation. To see the video, visit http://www.profitconfidential.com/critical-warning-number-six.