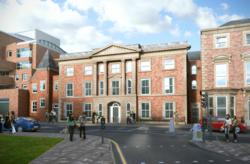 The demand for high quality, private student accommodation has not abated
(PRWEB UK) 21 September 2012
The student property sector has been one of the strongest performing asset classes of recent years, in response to the strong market demand from an expanding student population, relatively short void periods and higher-than-average yields, particularly in regional cities and towns.
Yet recent reports indicate that rents in the sector are not growing as quickly as other areas of the private rental market, perhaps in direct response to the recent drop in university admissions as the fall-out from the rise in UK tuition fees begins to emerge.
Figures released from EasyRoommate.co.uk report that admissions to UK universities dropped by 7% in 2012, easing the pressure on student accommodation demand and in turn, rental values.
This is a trend however that student accommodation specialists like Knight Knox International are keen to point out is not a true indicator of the strength of the market, as the 7% drop in applications was anticipated by the universities themselves in the wake of the fees hike and that, even with this dip, university places in the UK are still heavily oversubscribed, indicating that demand in the sector will continue.
"The demand for high quality, private student property has not abated" comments Martin Copeland, Sales Director at Knight Knox International. "Today's students are definitely more commercially aware than ever before and expect a higher quality of accommodation for their money".
Copeland further comments "Over the past 18 months we have sold out 10 developments in the student accommodation market. At least four of these developments are fully operational and generating an immediate income for our investors, allowing us to move forward and source new projects".
To further confirm their confidence in the continuing strength of the market, Knight Knox International has launched their latest student accommodation project – Bard House. Located in the heart of Nottingham and within walking distance of the university, investors can expect assured NET yields of 9.2% for the first three years, in a location that receives over 30,000 students annually.
Bard House
A former university building, this four-storey development is on the doorstep of the Nottingham Trent University, making it the perfect location for students in the area.
Comprised of 39 double studios and 17 single studios, all of which are furnished to the highest of standards, students will also have access to a range of communal facilities including a laundry, gym, common room and entertainment suite.
Students choosing to study at the university will have access to a state-of-the-art tram system and one of the largest public bus networks in the UK; ensuring excuses for being late to classes are simply not allowed!
Knight Knox International
Market leaders at selling investment and lifestyle property in both the UK and overseas, Knight Knox International are specialists at selling boutique student accommodation to the private investor market.
With over 10 completed, high-yielding developments in numerous major university cities including Liverpool, Sheffield, Leeds and Bolton, several of which are now generating impressive yields as the students start to move in, investors can be confident that only residences of the highest quality are brought to market, in line with the Knight Knox Accommodation Student Property Investment Checklist (see attachment).
To enquire about Bard House, or for further information on the full range of student accommodation projects available through Knight Knox International call +44 (0)161 772 1370