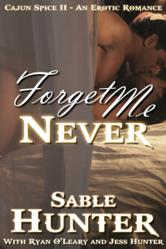 New Orleans, LA (PRWEB) September 22, 2012
Sable Hunter, erotic romance author, has just released the second book in her acclaimed "Cajun Spice" series. In "Forget Me Never," available on the Amazon Kindle, Hunter attempts to capture the spirit of Louisiana while dealing with heavy topics such as war, disease, death, the spirit and true love. Cajun Voodoo, the United States Marines, Hansen's disease and life's biggest questions permeate this installation and the title has already garnered many positive reviews.
"Cajun Spice" is a spin-off of Hunter's most popular series, "Hell Yeah!" While the original took place in the Hill Country of Central Texas, the "Cajun Spice" series expands the universe to Southern Louisiana. Sable ensures that Louisiana is just as much part of her heritage and culture as the Lone Star State and is responsible for much of her character. A love and reverence for the area decorates the entire novel as Hunter pauses frequently to share folklore and history regarding the events taking place.
The primary themes in the story are the love and loss of a military family and the stigma and stereotype of the ancient disease known as leprosy. As Sable explores in the book, Hansen's disease has a terrifying association with dirtiness and sin, even though it is curable and manageable with today's medicine. Her characters battle the effect of the superstition surrounding the disease that plagues them. She also exposes the roller coaster of emotion that is loving someone serving overseas in the military. The pain of loss and the joy of reunion punctuate the novel.
"Forget Me Never" includes contributions from other authors, Ryan O'Leary and Jess Hunter, from whom new works are expected within the year. Both O'Leary and [Jess] Hunter are in the process of collaborating on future projects with Sable Hunter. "Holding Out for a Hero," by Jess and Sable is in production currently and is purported to be available on the Kindle before Christmas.
To celebrate the release of the novel, Hunter is running a promotion the weekend of September 22, 2012. The first book in the series, "Burning Love" will be available for free to download on the Kindle on the days of September 22nd, 23rd, and 24th. Each copy will include an excerpt of "Forget Me Never" at the end. The promotion is being held through Kindle's Direct Publishing Select program.
Sable Hunter has been writing erotic romance novels for nearly two years. She has been publishing many of them herself for almost that. Her influences are Lorelei James and Maya Banks. At one point, she had three books simultaneously on the Amazon.com "Movers & Shakers" list and one on "Hot New Releases." You can learn more on her website or her Facebook fan page. sablehunter.com/sableserotica
Follow her on twitter @huntersable
You can find "Forget Me Never" here: http://amzn.to/SHgCFv
And pick up your free copy of "Burning Love" on September 22-24 here: http://amzn.to/VjbnQl