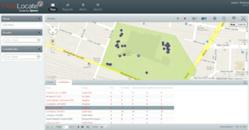 The new FleetLocate solution arms fleet managers with an unprecedented level of rich, real-time data so that they can make smarter, faster, more profitable business decisions.
Knoxville, TN (PRWEB) September 24, 2012
Today, Spireon, Inc., a leader in Mobile Resource Management (MRM) and trailer tracking solutions, unveils its next generation of FleetLocate Trailer Asset and Intelligence Solution during the TransForum 2012 User Conference and Exhibition presented by TMW Systems, the leading provider of transportation management solutions. FleetLocate is a Platinum Sponsor and exhibitor at TransForum 2012 showcasing its new trailer tracking solution in booth number 201.
"We are very excited about the launch of our comprehensive new FleetLocate trailer tracking solution, which includes a wide range of powerful new features and functionality specifically designed for the trucking industry," says Spireon's Vice President of Product Marketing, Roni Taylor. "We've been listening carefully to what our trucking customers have been asking for in a trailer tracking and management solution, and are confident that the new FleetLocate system responds directly to those needs."
FleetLocate features a number of game-changing enhancements designed to meet the trucking industry's trailer management challenges. This includes a completely new graphical user interface that's easier to navigate and understand, includes simple and intuitive workflows for increased productivity and efficiencies, and provides instant single-screen views of trailer intelligence.
The new FleetLocate Trailer Asset and Intelligence solution is integrated with TMW Systems' TMWSuite and TMT Fleet Maintenance Solutions. This seamless integration allows carriers and fleet managers to capture and leverage more detailed information on their trailers' locations, capacity and operations to improve utilization and compliance.
The TMWSuite integration captures GPS position information from the trailer, whether tethered or not, for visibility to all trailers to support dispatch operations. Access to this information will improve trailer utilization and turns per trailer by allowing dispatchers to make sure they right trailer is at the right place at the right time.
The TMT Fleet Maintenance integration, which captures GPS position information and mileage, provides automatic scheduling of preventive maintenance work based on actual miles traveled and automatically alerts the maintenance department when a trailer requiring repairs or maintenance enters the yard. This automation will save the maintenance department countless man hours while extending to working life of assets and reducing maintenance-related costs.
"Members of the trucking industry have told us they need access to better information about their trailer fleets," explains Taylor. "The new FleetLocate solution arms fleet managers with an unprecedented level of rich, real-time data so that they can make smarter, faster, more profitable business decisions."
This rich data comes in a large part from a complete suite of new sensors included in the solution that capture a level of information far beyond the abilities of competing trailer tracking solutions. With the new FleetLocate, fleet operators and dispatchers will be able to see which trailers are not in transit, and therefore not earning revenue. Operators and dispatchers will also receive alerts when a trailer is empty and ready to be used, increasing productivity and turns per trailer.
Additional advancements include built-in, state-of-the-art CDMA (Code Division Multiple Access) cellular technology. The new FleetLocate leverages this technology to deliver high reliability, cost efficiencies, and increased capacity when it comes to tracking fleet activity and trailer locations even in rural areas where coverage is sporadic.
"A more intuitive experience, richer level of fleet intelligence, more robust trailer tracking, higher performance and reliability — the new FleetLocate Trailer Asset and Intelligence Solution delivers it all," says Taylor. "And TransForum 2012 attendees will be the first ones to try it out hands-on at the FleetLocate booth number 201."
About TMW Systems
TMW Systems is the leading Transportation Management Software (TMS) provider to for-hire and private fleets, brokerage and 3PL organizations. Founded in 1983, TMW has focused exclusively on providing mission-critical enterprise software to the transportation industry, including asset-based and non-asset-based operations as well as heavy-duty vehicle service centers. With offices in Cleveland, Dallas, Indianapolis, Nashville, Oklahoma City, Raleigh and Vancouver, the company serves over 2,300 customers, including many of the largest, most sophisticated and complex trucking companies in North America. TMW customers collectively manage over $70 billion in annual freight spend, direct more than 500,000 power units and maintain more than 1.7 million assets worldwide, including North America, Europe, Latin America and Australia-New Zealand.
About FleetLocate by Spireon, Inc.
FleetLocate is a powerful, flexible and scalable Trailer Tracking and Asset Intelligence solution that provides continuous real-time visibility of large, geographically disperse trailer fleets. Featuring exception-base reporting, FleetLocate is an effective tool for improving operational efficiency, increasing the number of loads per trailer and driving more revenue. The interface is simple to use, easy to navigate, and provides a comprehensive suite of reports designed to help businesses better manage their fleet operations and address many of the operational dilemmas they face daily. To learn more, visit http://www.fleetlocate.com/trailer
About Spireon
Spireon, Inc., is at the summit of business intelligence and committed to going higher. Headquartered in Knoxville, TN, the company emerged in 2011 as the industry leading Mobile Resource Management (MRM) company as a result of the merger of Spireon, Inc., Inc. with EnfoTrace and PFS, LLC, the top three providers in the MRM space. Spireon connects companies to their mobile assets and workforce through game changing information platforms, giving them the power to manage actionable business intelligence. Inspiring companies to reach new heights with powerful Software-as-a-Service (SaaS) based tools, Spireon provides a sturdy foundation on which to optimize performance.
With leading market positions in the Subprime Automotive Finance industry, Local & Enterprise Fleet Management and Trailer & Logistics markets, Spireon, Inc. specializes in developing strong business relationships with leading companies worldwide, enabling it to offer affordable world-class risk mitigation, mobile asset management and location based services to its customers. Spireon, Inc.'s patented array of GPS products and information platforms provide business intelligence solutions through industry brands for automotive dealers, lenders, service and delivery fleets and transportation and logistics companies. Spireon currently has over 1.5 million active devices in the marketplace and forecasts to deliver 800,000 units in 2012. With offices in the North America, Spireon has a proven track record in innovation, customer-focused service, financial stability, powerful vertical distribution networks, and a strong customer base.
For additional information, please visit Spireon, Inc.'s website http://www.spireon.com.
Contact:
Corinna Tutor
949-422-7103
ctutor(at)Spireon(dot)com