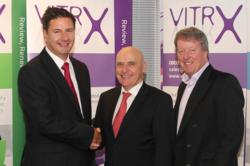 The question is, Are you doing IT right? Or are you doing the right IT?
Kevin Borley, The CIO Partnership Founding Director.
(PRWEB UK) 25 September 2012
This week multi-vendor, mixed technology support and professional services organisation, VitrX announced it is teaming up with the leading independent professional services practitioners, the CIO Partnership. This partnership will enable their clients to achieve an IT infrastructure that is not only better aligned to their business but also procured and implemented on the most advantageous financial terms.
The relationship has been established as part of each company's on-going efforts to assist IT leaders in overcoming the challenges posed to today's businesses; to gain improved value from their IT investments and ensure they contribute to the success of their organisation. This is achieved through the optimisation of business processes, streamlining of IT functions to support those processes, and implementation by experienced practitioners. They can even provide their clients with attractive financial arrangements to maximise their on-going return on investment.
VitrX is able to call upon many years of industry experience and privileged supplier relationships to allow businesses to acquire and deploy 'best fit' technologies thus enabling effective bottom line management. The CIO Partnership possesses very high calibre executive level practitioners who can transform their clients' staff, systems and business to enhance stakeholder confidence and achieve success.
There are evident synergies between each company's product and service offerings, notably in the offering of sourcing services, BYOD, mobile management and virtualization. This partnership will create a unique solution capable of providing complete practical and effective solutions to many of the challenges currently faced by IT Directors and CIOs.
CIO Partnership founding Director, Kevin Borley commented on the news, "Unlike other leading consulting and service companies, the CIO Partnership will transfer our skills to develop client's staff whilst we are reviewing and enhancing their IT strategy that will make their business more successful. Partnering with VitrX will grant us access to their direct purchasing agreements with the largest vendors to ensure we can procure technology at the best possible price. Access to their delivery and implementation capability will also enable us to provide a complete service to rival any leading IT services organisation. "
VitrX, co-founder Vince O'Hanlon added, "Recognising the numerous complementing product and service offerings and key business objectives shared between both parties, VitrX welcome the opportunity of partnering with the CIO Partnership. With a growing portfolio of the latest IT product and service offerings, combined with our ability to offer competitive lease options, we are looking forward to working together. "
About VitrX:
VitrX is a multi-vendor; mixed technology support and professional services organisation focused upon delivering IT projects and resources that improve output and add value to the mid corporate client base.
Offering clients the ability to streamline their IT functions and optimise business efficiencies, VitrX provide vendor-independent sourcing services, comprehensive installation and maintenance support systems and complete managed print services.
VitrX is committed to delivering services centred on long term trust, efficiency and importantly cost effectiveness.
For more information, please visit http://www.vitrx.co.uk
About the CIO Partnership:
The CIO Partnership is an independent professional services organisation comprising very high calibre executive level practitioners who can transform clients' people, systems, and business to enhance stakeholder confidence and achieve business success.
Its seasoned partners are available 'on tap' to work with clients to deliver results quickly and at an affordable price.
Its CIO partners have deep experience in all aspects of business transformational change, are used to operating at board level, and are absolutely focused on delivering client value. They, therefore, aim to deliver rapid results.
They achieve this with a well proven approach that covers:

A review of clients' IT operation and business processes to identify deficiencies or risks to their business strategy.
Planning what needs changing, and how best it can be achieved.
Hands-on implementation of the required changes.
Skills and knowledge transfer from our specialists to develop their clients' IT team and their business.
For more information please visit http://www.theciopartnership.com