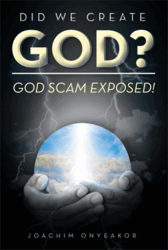 Johannesburg (PRWEB) September 23, 2012
Author Joachim Onyeakor believes that the religious arena has turned into a marketplace. Hence, anyone can buy God and religious institutions can canvass for membership to increase their sales. His book asks a question in its title – Did We Create God? In it he expresses his dismay in most religions, particularly within the fragmented Pentecostal community which has become a tool of fraud and deceit, selling God, false hopes, and false miracles.
The way religious organisations have been conducting themselves lately has fueled the author's sense of righteousness and justice. The book contains many examples of religious fraud which the author personally investigated. They are dismaying, and far from being turned cynical, Joachim Onyeakor has decided to expose what he calls the God scam with an anger worthy of St. Paul or Jesus himself upon seeing the Temple turned into a marketplace. Onyeakor does not hesitate to wield the whip of righteousness and hits hardest at the most flagrant examples of pastors and churches which shamelessly fleece their flocks to line their pockets. He calls the scam 419, after the article in the Nigerian Criminal Code for Nigerian money transfer scams.
In Africa, there are more churches than factories. The trail of this detailed exposé has sometimes led the author to question the legitimacy of divine influence in the rise of religions. One example, ridiculous if not for the fact of it's being stomach-turning grand larceny, is of the woman who was paid 5000 South African rands to act as a cripple in a wheelchair in a church. She was one of those who would be called to be healed miraculously, so she posed near the church stage. Forgetting that she was posing as a cripple, the woman stood up to use the toilet and blew her disguise. This and many more instances of deceit make readers themselves question the legitimacy of churches and be aware of the many wiles of Satanic influence that fool the unwary into putting money where their faith is.
For more information on this book, interested parties may log on to http://www.XlibrisPublishing.co.uk.
About the Author
Mr. Joachim Onyeakor is an engineer turned activist and an inspirational-motivational writer. He is the author of the bestselling book We Can Do It, published by Tsumele Publishing, Republic of South Africa. He is a well-travelled individual who embraces human reason, ethics, and social justice whilst specifically rejecting religious dogma, supernaturalism, pseudoscience, or superstition as the basis of morality and decision making. He was born in the federal republic of Nigeria but is currently a resident in the Republic of South Africa. His activism contributed immensely to the abolition of xenophobic violence in the republic of South Africa in 2008 prior to the World Cup which earned him reputation in the Republic. He believes that the ultimate reason why we are here on this planet is to serve humanity and not to advance a cause of human destruction. Hence, all science, knowledge, and all efforts of man must be to the betterment of fellow man. Humanity encompasses, love, spirituality, sympathy, human race, people, civilisation, creativity, and uprightness, so we must all strive to be humane. He founded We Can Do It foundation, Nigeria, and Save the Youth foundation, South Africa. He has been well featured in South African print and electronic media.
Did We Create God? * by Joachim Onyeakor
Publication Date: August 16, 2012
Trade Paperback; UK£13.99; 245 pages; 978-1-4771-3695-9
Trade Hardback; UK£23.99; 245 pages; 978-1-4771-3696-6
eBook; UK£3.99; 978-1-4771-3697-3
Members of the media who wish to review this book may request a complimentary paperback copy by contacting the publisher at +0800-644-6988. To purchase copies of the book for resale, please fax Xlibris at 44-203-006-8880 or call +0800-644-6988.
For more information, contact Xlibris at +0800-644-6988 or on the web at http://www.XlibrisPublishing.co.uk.