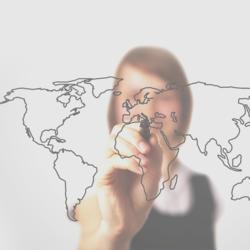 London, UK and Toronto, Canada (PRWEB UK) 24 September 2012
Through accreditations with card acquirers such as Elavon, PBS, AIB, Barclaycard, Bank of Ireland, Amex and Diners, YESpay is becoming a leading outsourced integrated payments service for EMV chip & PIN card present, as well as for e- and m-commerce, helping retailers across Europe, Canada and USA.
Crossing card payments borders with YESpay
"YESpay EMBOSS service has dealt with the challenges that multi-national merchants face when transacting card payments across borders in multiple currencies, having recently helped one such retailer to go live in 17 European countries with Elavon as the single card acquirer", said Simon Curtis, Senior VP, European Strategic Sales for YESpay.
The abundance of innovative features include:

Single POS payment client for all stores regardless of country location easing solution installation;
Dramatic reduction in the technical burden and high costs of locally certifying card payments services in different countries;
EMV Chip & PIN pre-accredited not requiring merchant involvement in any further certifications;
YESpay EMBOSS is PCI-DSS Level 1 and PA-DSS certified;
Roadmap to enhanced security features such as Point-to-Point encryption and tokenization ensuring security of cardholder data.
Simple POS integration within days!
Support for mobile POS such as tablet, iPad, iPod, iPhone, Android devices;
Support for on-line and off-line EMV PIN processing standards prevalent in different countries.
"YESpay is keeping its eye on the global payments needs", said Chandra Patni, CEO, YESpay comments, "and is uniquely positioned to offer a cross-border card payments service for our multi-national merchants all delivered as a Software as a Service (SaaS) and at low affordable monthly service fees."
About YESpay International Limited
YESpay International Ltd., a global card payments service company, provides highly secure Internet, EMV Chip & PIN, contactless and gift card payment processing services to independent and multi-chain merchants. Through EMBOSS, the YESpay Managed Payment Service, merchants can quickly accept integrated card payments within EPOS, kiosks, hospitality and e-commerce systems with minimal capital investment and low on-going services costs. EMBOSS is an on-line IP-based payment processing service that has been generically pre-accredited by major Card Acquirers in Europe and North America (including First Data Merchant Service (FDMS), Chase Paymentech, Barclaycard Business, HSBC, HBOS, Lloyds Cardnet, Streamline, Ulster Bank, Elavon, PBS, Amex and Diners). In addition, the YESpay EMBOSS service is fully end-to-end certified to Payment Card Industry Data Security Standards (PCI DSS) Level 1 as mandated by Visa and MasterCard. The YESpay EasyV-Suite of card payment products is innovative and cost-effective for EPOS, Kiosk, Hospitality, Mobile and Internet environments. With the YESpay EMBOSS card payment service, merchants can perform card payments in both card-present and card-not-present environments.
Contact details:
UK Headquarters: Checknet House, 153 East Barnet Road, Barnet, EN4 8QZ, UK | +44 - 203 - 006 – 3790
Canada Office: 116 Spadina Avenue, Suite 201, Toronto, Ontario, M5V 2K6, Canada | 1 855-YES-PAY- 1
PR Contact: Nitasha Jain, Marketing Manager, ext. 402, Nitasha(dot)Jain(at)yes-pay(dot)com marketing(at)yes-pay(dot)com