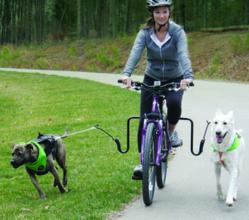 For the nearly 22 million households that own two dogs, we are delighted to offer the Springer Xtra Arm Kit to help give their pets the daily exercise necessary to stay healthy.
Raleigh, NC (PRWEB) September 24, 2012
Springer America, http://www.springeramerica.com, exclusive distributor of the Springer Dog Exerciser in North and South America, announces the release of the Springer Xtra Arm Kit, enabling Springer lovers to ride with multiple dogs on both sides of their bikes.
Developed in response to customer requests, the Springer Xtra Arm allows you to replace the single bolt of the original Springer Dog Exerciser with the new dual bolt and simply slide on the Springer Xtra Arm.
Pet ownership statistics underscore the need for this accessory. Of the 78.2 million dog owners in the United States, 28% -- or nearly 22 million households – own two dogs. Further, 12%, or 9 million households, own three or more dogs. (Source: American Pet Products Association 2011-2012 National Pet Owners Survey.)
In addition, the latest nationwide survey conducted by the Association for Pet Obesity Prevention reveals that 53 percent of adult dogs are classified as overweight or obese by their veterinarians, leading to an increase in "osteoarthritis, type 2 diabetes, high blood pressure, breathing problems, and kidney disease," as well as shortened life expectancy.
According to Springer America President, Kjell Ottesen, "We know that daily exercise is a critical element in keeping our dogs healthy. So we are delighted to offer the Springer Xtra Arm Kits to our customers who want to run with two, three or even more dogs at one time."
The Springer Xtra Arm Kit is available for $69 at http://www.SpringerAmerica.com.
The Springer Dog Exerciser is the bike attachment that allows dogs to run safely beside their owners. Springer's low-mounted, heavy-duty steel spring absorbs up to 90% of the force of a dog's unexpected tugs, allowing bike riders to keep their balance, while protecting them from traffic, pedals, and wheels. Enjoyed by 600,000+ dog-loving bicyclists around the world since 1988, the Springer is quick and easy to install.
Springer America, based in Raleigh, NC, sells Springers and supporting products at http://www.SpringerAmerica.com. See the Springer video at http://www.springeramerica.com/photo_library.asp. Resellers and distributors are invited to contact Ottesen directly about wholesale rates at 919-616-0532 or kjell (at) springeramerica (dot) com.