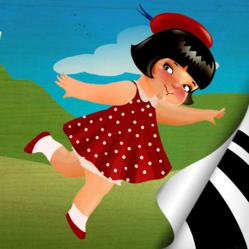 (PRWEB) September 24, 2012
zuuka just released The Little Girl Who Could Fly, a children's adaptation of "The Man Who Knew How To Fly," for the iPad on the App Store. The wonderfully crafted story of The Little Girl Who Could Fly is now part of the growing iStoryTime library. This enchanting tale explores the endless imagination of a little girl who believes she can fly.
It's up to the reader to unlock her soaring abilities through interactive prompts that lift her up into the skies. This beautiful storybook app features countless animated details, interactive features to explore as well as intriguing music and sound effects to enhance the story's immersive experience.
Illustrator Elite Avni-Sharon adapted Karel Capek's intriguing short story "The Man Who Knew How To Fly" and turned it into a captivating and vibrant children's tale with its own unique style, bubbly colors and a truly compelling voiceover by Gabriella Lewis. Available in Hebrew already, zuuka presents the title now for the first time in English.
"The app blends its retro look with solid app design and a few well-integrated extras, like a coloring-book page, a dress-up game and the option of tilting the iPad to guide the little girl's aerial movements. It is an adaptation that manages a tricky balance between heartfelt and hokey within an app that has a distinctive look and feel." (Kirkus' Review)
Pricing and Availability:
The Little Girl Who Could Fly is available for $1.99 on the App Store for the iPad or at http://www.itunes.com/appstore.
______________________________________________________
About YellowPixie ('The Little Girl Who Could Fly')
YellowPixie is a young digital publishing company that produces and publishes interactive children books. With the appearance of eReaders and tablets, book publishing is going through a major revolution. YellowPixie is excited about the digital revolution and sees in it the birth of a new art form. Children's books hold within them a unique relationship between book, parent and child. The company's goal is to take that relationship a step forward with a new media that intrigues and engages readers.
About zuuka
zuuka publishes zuuka Comics, iTalk and iStoryTime – an interactive storytelling experience delivered to the convenience of your mobile device – which features a series of illustrated and narrated books created by parents for kids. iStoryTime books have been highlighted in the New York Times, LA Times, CBS Early Show, theiPhoneMom.com, CNET and is decorated with Publisher's Innovation Award, PTPA Media's Parent Tested Parent Approved Seal of Approval, the Children's Technology Review's Editor's Choice Award and Reader's Choice for Best Apps for Kids. With over 200 products to choose from, including favorites such as The Smurfs, Puss in Boots, How to Train Your Dragon, WeeSing, Shrek and Kung Fu Panda, iStoryTime apps are excellent tools for both educating and entertaining children ages two years and up. These storybooks can be enjoyed in several different modes ranging from automatic to manual, depending upon the development and preferences of the user. For additional information, visit http://www.iStoryTime.com.