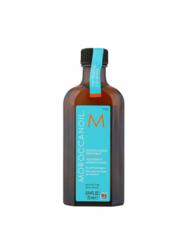 (PRWEB UK) 24 September 2012
Hairtrade.com, the UK's leading retailer of hair extensions, hair care and beauty products has announced that it has extended its Moroccanoil hair care range after sales increase this summer.
Following from the addition of Moroccanoil Curl Range, and the newest product Moroccanoil Frizz Control, Hairtrade.com has extened the line further with the introduction of a miniature travel size bottle of its most popular Moroccanoil product – the original Moroccanoil treatment.
Keven Kou, Managing Director at I&K International, commented: "The Moroccanoil range has been extremely popular this summer when everyone needs to take more care with their hair in the sunshine. The formula used in Moroccanoil conditions even the driest of hair which is why the original Moroccanoil treatment was so successful."
He continued, "We wanted to expand the range and so we decided to introduce a smaller version of our most popular product which is ideal for travelling or for those who want to try Moroccanoil before purchasing the larger size."
Available in a 25ml bottle for £12.95, it has the unique quality of instant absorption into hair, creating shine without leaving an oily residue. It restores shine and softness to dull lifeless hair, promotes healing and provides nourishment to hair damaged by colouring and styling. It also Nourishes the scalp (alleviates itchy, dry scalp) and creates an optimal balance for the hair and scalp.
Moroccanoil also protects against UV damage and other environmental factors, as well as reducing drying time and speeds up styling time. It has a patented weightless formula with no build up and is also ideal care for hair extensions.
Moroccanoil is available from Hairtrade.com now.
About I&K International Limited:
Established in 2005, I&K International Limited is now one of the leading distributors of online hair care and beauty products across the UK and Europe. Hairtrade provides a wide range of hair extensions, hair care products and hair electrical brands.
Hairtrade provide a wide range of 100% human hair extensions mainly, human hair weaves, I&K clip in Hair Extensions and pre-bonded hair and European hair extensions. Among its top brands are I&K 100% Human Hair and Remy Hair, Top Model and Jessica Simpson hair. In addition to its 100% human hair extensions the company also provides synthetic hair extensions, wigs, hairpieces, hair extensions accessories and tools, as well as an extensive range of hair care products from brands such as Tigi, Loreal, Schwarzkopf, Goldwell, Matrix, Fudge, Keune, Sexy Hair and many more.