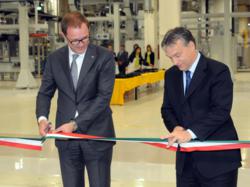 Szentgotthárd, Hungary (PRWEB UK) 24 September 2012
The Hungarian Prime Minister Viktor Orbán has today joined Opel/Vauxhall Management Board Deputy Chairman, Thomas Sedran, for the inauguration of Opel/Vauxhall's new engine plant in Szentgotthárd, Hungary, exactly two years after the project was announced.
Orbán acknowledged the importance of the new facility for the Hungarian economy, while Sedran emphasized that the investment is an important part of Opel/Vauxhall's product offensive.
"We are investing billions of euros in 23 new models and 13 new engines by 2016," said Sedran. "Many of these engines will be built right here in Szentgotthárd."
The €500 million flex-plant features world-class flexibility and efficiency. It will produce highly fuel-efficient gasoline and diesel engines. It will have the ability to swiftly adapt production in response to changing market demand. The plant will have more than 800 employees and manufacture half-a-million engines per year at full capacity.
The first 1.6-litre mid-size gasoline engines that roll off the line will power the face-lifted Opel/Vauxhall Astra range with its new four-door saloon. It had its world premiere last month at the Moscow International Motor Show. The engines provide extraordinarily high maximum torque along with significantly reduced fuel consumption and CO2 emissions. All of the new generation Opel/Vauxhall engines built in Szentgotthárd will meet the strict future EURO 6 emissions standard.
As one of the most sophisticated engine plants in the world, the Szentgotthárd facility will play a key role within the European Opel/Vauxhall manufacturing network. It will also deepen Opel business relationship with Hungarian suppliers and enhance the role of Opel in the local economy and job market.
History, tradition and the Opel brand in Hungary
The new investment in Szentgotthárd has almost doubled the amount that Opel invested over the past two decades in Hungary. In the early 1990s, Opel became the first international automotive company to invest there and the first automaker to build passenger cars in the country. The start of engine production at the new facility in Szentgotthárd coincides with the 20th anniversary of the production of the first Opel Astra in Hungary.
Over the past 20 years, more than 7 million engines and 5.5 million cylinder heads have been produced in Szentgotthárd. Opel's footprint in Hungary is the key to a multitude of business opportunities for Hungarian companies. In 2011, the Hungarian suppliers of Opel/Vauxhall operations in Europe had a turnover of around €400 million.
Supported by its strong industrial background, Opel has been among the top three brands in terms of new car registrations in Hungary over the past 20 years. Opel continues to be the number one passenger car brand in the country, with nearly 11 percent market share.