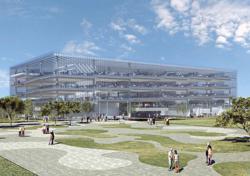 In addition to power generation, this solution allows for the entry of natural light, provide both thermal and sound insulation and feature an innovative and aesthetic design
New York (PRWEB) September 24, 2012
Turner Construction selected Onyx Solar to develop the largest photovoltaic skylight in the United States. It will be installed in the new Novartis US Headquarters located in East Hanover, New Jersey.
This project involves several leading companies in their respective activities. Renowned architect Rafael Viñoly – NY World Trade Center finalist – designed an open office environment for the oncology division of Novartis - multinational pharmaceutical company committed to sustainability – which will be built by one of the US major constructors, Turner Corp., that awarded New York based Onyx Solar the photovoltaic integration as a benchmark company in BIPV sector.
Onyx Solar will develop an architectural turnkey solution that consists of the integration of a 26,447 ft² doubled PV skylight, a 295 kilowatt-DC base rated power photovoltaic system. It will be made of 820 completely customized translucent units to produce clean and free energy thanks to solar power.
Photovoltaic skylights stand out among architectural solutions due to their multifunctional properties: In addition to power generation, this solution allows for the entry of natural light, provide both thermal and sound insulation and feature an innovative and aesthetic design for this astonishingly avant-garde building.
In order to award the project, Turner Corp considered previous experience of Onyx Solar in the United States, where various projects have already been completed such as BART Station Canopy in California or Arcadia Commons BIPV Brise-Soleil in Pennsylvania. Onyx Solar's background in tailored photovoltaic solutions has led the company to become the most reliable BIPV partner in the United States.
About Novartis
Swiss multinational pharmaceutical company that is currently one of the global healthcare leaders, focusing its activity on the research and development of successful products to enhance the quality of life.
2010 total revenue of the company reached $50.6 billion, while net income grew 18% to USD 10.0 billion. Plus, Novartis hires almost 120,000 people all around the world.
According to Newsweek report "Green Rankings 2010: Global company", Novartis ranks nº6 in environmental performance and sustainable policies applied among global companies.
East Hanover Center is destined to boost the Oncology unit of the company in the United States, where more than 1,600 jobs will be created.
About Turner Construction
One of the largest construction management companies in the United States, with a construction volume of $8 billion in 2010.
Turner has 46 offices in the U.S. is active in 20 countries around the world and averages 1,500 projects per year. Turner services include construction management, general contracting, consulting, construction procurement, insurance and risk management.
According to Engineering News-Record's 2008 Top 400 Contractors Sourcebook, Turner is the largest "Green contractor" in the United States[4] and the third largest contractor overall in the United States.
Some examples of emblematic projects are the Dubai's Burj Khalifa (the tallest building in the world), the Madison Square Garden, Hearst Tower or Yankee Stadium in New York, Los Angeles US Bank Tower or Standford University in California.
About Rafael Viñoly
Architecture firm founded in 1983, headquartered in New York and with offices in London, Los Angeles, Abu Dhabi, Dubai and Bahrain.
Created by Rafael Viñoly – born and raised in Uruguay – the firm has completed projects worldwide such as John Jay College of Criminal Justice in New York, Tokyo International Forum in Japan (one of the most important Cultural Centers in the world) and was selected finalist for the construction of the new World Trade Center.
It is known for embracing new technologies in their works and for being a sustainability committed architect, distinguished member of the American Institute of Architects, Royal Institute of British Architects, Japan Institute of Architects and the Central Society of Architects of Argentina.
About Onyx Solar
Worldwide leader in BIPV solutions for energy-efficient buildings, replaces conventional construction materials for photovoltaic multifunctional solutions that enable the building to produce energy, enhancing energy-efficiency performance and reducing CO2 emissions considerably.
Based in New York, it´s a global company with offices in Spain and Colombia as well, and has already completed projects in France, Italy, Spain, China and the United States. It is a company committed to the Environment and with a strong belief in innovation that has led it to be a reference point in BIPV sector (Building Integrated Photovoltaics).