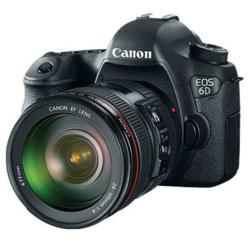 The Canon EOS 6D is a mid-tier DSLR that makes full-frame digital photography affordable for serious photographers, whether amateur or professional.
New York, NY (PRWEB) September 21, 2012
Building on the huge success and innovative design of the Canon EOS 5D Mark II, Canon has introduced the Canon EOS 6D digital SLR. The new model is available immediately for pre-order at Adorama Camera, America's most advanced camera retailer. Priced at only $2,099, the EOS 6D body is a mid-tier DSLR that makes full-frame digital photography affordable for serious photographers.
The EOS 6D houses a powerful, all-new 20.2-megapixel CMOS image sensor, which along with Canon's latest DIGIC 5+ Image Processor produces still photographs of exceptionally high quality. And just like the legendary Canon EOS 5D Mark II, the EOS 6D shoots 1080p Full-HD video, with manual exposure control if desired.
The Canon EOS 6D brings with it important new features that make it a truly superior DSLR, and one of the most advanced photographic offerings from Adorama. These include a built-in Wi-Fi transmitter that allows stills and video to be immediately shared without the need for a computer, both on the Web and directly with other wireless cameras, smartphones, and tablets; and a GPS receiver that automatically records the geographic location and elevation at which a photograph was taken, saving it in the file's EXIF data. The GPS data can be used with automatic mapping applications, while the wireless capability, in tandem with the free, downloadable Canon Remote app, allows you to control the EOS 6D with a smartphone or tablet, a valuable option whether the subject is wildlife or a wedding.
Adorama Camera offers the Canon EOS 6D as an ideal camera for advanced amateurs and videographers. Customers will appreciate its robust features, such as continuous shooting at speeds up to 4.5 frames-per-second, great for capturing fast action; automatic HDR mode, for enhanced results with scenes having difficult, high-contrast lighting; a fast, precise 11-point autofocus system that delivers smooth focus tracking; highly accurate 63-zone multi-segment exposure metering; light sensitivity up to a remarkable ISO 102,400 (H2 mode); and a 1,040,000-dot, three-inch high-resolution LCD monitor for both detailed image review and crisp live-view shooting. Durable construction and a 100,000-cycle shutter insure that the Canon EOS 6D is a serious DSLR that can deliver professional-level results.
Also being introduced along with the Canon EOS 6D are three Canon compact cameras, all available for pre-order at Adorama.com. These new models offer something for every level and type of photographer. The advanced Canon PowerShot G15 is the latest in a long line of compacts offering DSLR-style creative control. The touchscreen-operated Canon PowerShot S110 incorporates Wi-Fi capability, for enhanced photo sharing. And the Canon PowerShot SX50 HS features the world's first 50X optical zoom in a compact camera—a lens that boasts the equivalent, in the 35mm format, of an ultrawide- to ultra-telephoto 24-1200mm focal-length range.
Photographers can learn more about these four important new Canon cameras at Adorama.com. Pre-orders for the cameras, which are sure to be among Adorama's best sellers, will be honored on a first-come, first-served basis.
ABOUT ADORAMA: Adorama is more than a camera store. It's one of the world's largest photography, imaging, and electronics retailers, having served its customers for nearly 35 years. Adorama has grown from its New York City superstore into a global online destination, Adorama.com, for photography and imaging products, services, and education. Adorama's vast offerings now encompass home entertainment, mobile computing, and professional audio, while its services include an in-house photo lab (AdoramaPix), pro equipment rental (Adorama Rental Company), and its award-winning Adorama Learning Center, which offers free educational resources for photographers.
Adorama Camera has the honor of being listed in Forbes.com's "Best of the Web" Top 100 Internet Retailers, and in Consumer Reports as a leading photography and electronics retailer. Visit Adorama Camera at Adorama.com.