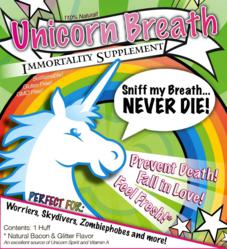 Baltimore, MD (PRWEB) September 21, 2012
Maryland-based FDA consulting firm, FDAImports.com, is attending the Natural Products Expo East show this week at the Baltimore Convention Center in Baltimore, MD. The show is one of the largest gatherings of natural and organic product companies, manufacturers and press. At the show, the FDAImports.com team is exhibiting as Live Forever Juice, a unicorn-themed brand whose products tout over-the-top claims such as immortality and the guarantee of falling in love. In 2011 the FDAImports.com team handed out bright and eye-catching boxes of "Live Forever Juice," a food product designed to highlight common food labeling mistakes. This year, in an effort to connect with the dietary supplement community, they are handing out small packets of "Unicorn Breath Immortality Supplement," a packet of air that claims to contain the ":life-giving breath of unicorns." The packaging demonstrates common labeling claims and errors.
Connecting with Creativity
Ben England, Founder and CEO of FDAImports.com hopes that the light-hearted approach will gain traction with the organic community. "We wanted to make a connection with food manufacturers and importers and generate interest in something that is often on the back-burner for many companies," said England. "The Live Forever Juice project is a way to get noticed and have some fun but also to communicate just how complex and maze-like FDA regulations really are. Especially when it comes to labeling."
In addition to the juice box and supplement packet, the firm has created a rainbow and tropical themed booth space featuring inflatable unicorns, flashing pins with the imaginary company's branding and an infomercial that both touts the product and takes a jab at infomercials and internet claims. The firm also has produced whitepapers and materials on topics important to the organic industry such as GMO labeling, organic claims, Prop 37 and food imports from other countries.
The project's website is http://www.liveforeverjuice.com.
Their videos can be found at: http://www.youtube.com/fdaimports
About FDAImports.com
FDAImports.com is an FDA consulting firm helping U.S. and foreign companies navigate through and meet complex FDA regulations for marketing and importing foods, dietary supplements, drugs, cosmetics and medical devices. Benjamin L. England, Founder and CEO, is a former 17-year veteran of the FDA and served as the Regulatory Counsel to the Associate Commissioner for Regulatory Affairs. Contact: Jon Barnes, (410) 220-2800 or pr(at)fdaimports(dot)com.
###