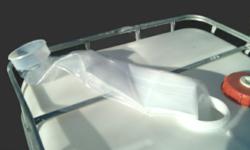 we are very excited about the opportunity to present this new technology that will so greatly improve efficiency and reduce waste for processors of bulk liquids
Alpharetta, Georgia (PRWEB) September 25, 2012
Grayling Industries, a leading manufacturer and distributor of intermediate bulk containers and liners will again be presenting new IBC technology at the exhibition from October 28th through the 31st in booth number 8118.
The new "bottle-in-cage" IBC tote liner system from Grayling allows the 275 gallon or 1,000 liter and the 330 gallon Schutz, Mauser and Greif totes to be reused immediately. Typically, after a tote is emptied, it is shipped to a cleaning facility where the bottle is washed out, the waste water properly disposed of, then the clean container is shipped back to the processor for refilling. With the Grayling tote liner system, once the tote is emptied, the liner is removed, another liner is installed and the tote is immediately ready for refilling without the wasted time, waste water disposal and cleaning expense or the downtime associated with the tote being unavailable while it is out of the system.
Mr. Raymond Joyner, Sales Director for Packaging Products, says, "we are very excited about the opportunity to present this new technology that will so greatly improve efficiency and reduce waste for processors of bulk liquids".
In addition to the tote liner, Grayling will also be presenting a new line of drum liners. Most notably a new rigid 55 gallon drum liner. This rigid form-fitting drum liner is manufactured in a totally unique way that will reduce both manufacturing and material costs.
Grayling Industries is a North American manufacturer of specialized flexible film products for industrial applications. Markets served are industrial packaging and environmental safety. Primary products are intermediate bulk containers and liners and products for contamination control on asbestos abatement projects.
For more information on Grayling Industries, visit http://www.graylingindustries.com or call 800-635-1551 or 770-751-9095