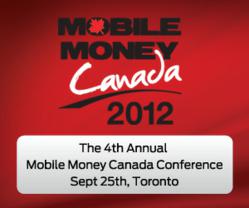 Mobile Money Canada is the premier mobile event in Canada. It's a must-attend if you are involved in Canadian mobile finance." – David Eads, Founder, Mobile Strategy Partners
Toronto, Ontario, Canada (PRWEB) September 21, 2012
The 4th Annual Mobile Money Canada Conference is this year's must attend event for mobile and financial sector professionals interested in learning from and networking with the leading mobile banking, mobile payments, and mobile money transfer pioneers from Canada and around the word. Mobile Money Canada 2012 is Canada's largest conference focused exclusively on showcasing and fostering the growth of the Mobile Money industry in Canada. The conference is almost sold out and occurs on September 25th, 2012 at the Metro Toronto Convention Centre.
Mobile Money Canada 2012 features a speaker line-up of the senior leaders driving the Mobile Money revolution in Canada and around the world. The conference is this year's must attend event for mobile and financial sector professionals interested in learning from and networking with the leading mobile banking, mobile payments, and mobile money transfer pioneers from Canada and around the word.
Mobile Money Canada 2012 will showcase Canadian Mobile Banking and Mobile Payment experts from Canada's leading financial institutions, mobile operators, and financial services providers including:

BMO
CIBC
Deloitte Consulting
DonRiver Inc.
Hassard Fay Inc.
Interac Association
Kony
KPMG
MasterCard Worldwide
Mobile Strategy Partners
MNP LLP
Rogers Communications
Roshan (M-Paisa)
Royal Bank of Canada
Royal Canadian Mint
Scotiabank
SecureKey Technologies Inc.
Sybase 365
TD Canada Trust
Telepin Software
Venture Grower Inc.
Visa Inc.
Western Union Financial Services (Canada) Inc.
Key highlights of the Mobile Money Canada 2012 agenda include the following:
Digital Currency - The Evolution of Currency and Electronic Payments - MintChip, presented by The Royal Canadian Mint:
The Royal Canadian Mint recently announced an R&D initiative focused on the future of money called MintChip. Marc Brule, will share the Mint's rationale and approach for the MintChip Developer Challenge launched earlier this year with an overview of the MintChip proposition, the Developer Challenge process, and highlights of the feedback and submissions from the development community.
The Evolution of Mobile Financial Services at CIBC:
CIBC is as a leader in the Canadian Mobile Financial Services space. A senior member of CIBC's Mobile Strategy & Planning team, Kevin Faragher, will share insights into all of CIBC's mobile solutions. From Mobile Banking to Mobile Payments, Kevin will discuss CIBC's insight, forward looking strategies, and the trends CIBC is focused on for the continued evolution of their mobile offering.
CIBC, Rogers, Interac, and Visa to Discuss NFC & Mobile Contactless Payments:
The conference will feature the panel - The Future of Mobile Contactless Payments. The panel is comprised of mobile financial services experts from CIBC, Interac, Rogers, and Visa. These experts will delve into the most pressing issues impacting the imminent rollout and adoption of Mobile Contactless Payment services.
Canadian Financial Institutions to Explore The Current and Future State of Mobile Payments in Canada:
Aran Hamilton, Managing Director of Venture Grower Inc., will moderate a Mobile Payments panel with Canadian banking representatives from CIBC, Scotiabank, and TD Canada Trust. The panel, "Hype vs. Reality in Canadian Mobile Payments - What's News and What's Noise?" will explore the key questions impacting the growth of mobile payments from a financial institution perspective.
The Rise of Mobile Money in the Developing World:
Karim Khoja is CEO of Afghanistan Mobile Operator Roshan and founder of its M-Paisa mobile money service. Mr.Khoja will provide attendees with an in-depth overview of the rise of mobile money in the developing world and how mobile financial services are improving the lives of the poor around the world.
Innovations in ID and Security: Opportunities in Payments:
SecureKey Technologies Inc. provides an innovative platform-as-a-service for authentication, payment and identity. Robert Blumenthal, Secure Key's EVP, Marketing and Business Development, will describe the evolution of digital identity and security technologies which promise to enhance authentication for payments and other applications online, on mobile, and in-person.
Delivering Mobile Commerce Services to Mobile Subscribers Around the World:
Mobile payment service and platform providers DonRiver Inc., Kony Solutions, Sybase 365, and Telepin will discuss innovative mobile commerce solutions being developed, deployed, and operated globally; from international mobile airtime top ups to multi-channel, mobile payment and carrier billing offerings.
The conference will culminate with the Mobile Money Canada Conference Gala & Networking Reception. The gala occurs on the evening of the conference in Toronto's stylish King West district at the Brassaii Restaurant & Lounge. The gala is only open to ticketed conference attendees and space is limited. If you have not yet registered for the conference, do so today and reserve your place to connect with your colleagues over an entertaining evening of great food, drink, and conversation. The gala will be hosted by and is made possible through the gracious support and sponsorship of KPMG.
For more information on Mobile Money Canada, please visit http://www.MobileMoneyCanada.com and/ or contact the conference lead at Anant(at)mobilemoneycanada(dot)com
About DonRiver Inc.
DonRiver is the lead organizer and sponsor of Mobile Money Canada 2012. DonRiver is a technology consulting, software development, and outsourcing firm that that has specialized in the rapidly evolving Mobile Money industry since 2006. DonRiver leverages its extensive mobile and financial services industry experience, technology expertise, and software platforms to deliver revenue- generating mobile financial applications to leading mobile operators and financial services providers around the world. For more information, please visit the following website: http://www.donriver.com
About Mobile Money Canada
Mobile Money Canada is Canada's premier educational and networking mobile money conference for Financial Institutions, Mobile Network Operators, Handset OEM's, Remittance Providers, Payment Processors, and Mobile Software Vendors.
The goal for Mobile Money Canada is three fold:

Stimulate the growth of the mobile money industry in Canada.
Educate business and technology executives that need to roll out Mobile Financial Services.
Showcase the leading Canadian mobile money services and technology vendors that can help to accelerate and de–risk Mobile Financial deployments. For more information, please visit the following website: http://www.mobilemoneycanada.com