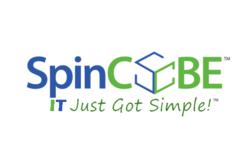 SpinCUBE is a young, energetic and innovative company with cutting edge technology for today's workplace
Jersey City, NJ (PRWEB) September 25, 2012
Paul Scalia, CEO and General Counsel of SpinCUBE stated, "I am delighted to welcome Mr. Pantozzi to SpinCUBE. Mr. Pantozzi possesses a deep understanding of corporate finance and governance through his leadership and more than 40 years of experience in banking. A highly regarded business and community leader, Mr. Pantozzi will be a strong asset to our vibrant team. We look forward to working with him on expanding our brand and market share."
According to Mr. Pantozzi, "SpinCUBE is a young, energetic, and innovative company with cutting edge technology for today's workplace. Its dynamic business model and revolutionary product offerings will serve to transform and streamline day-to-day business operations thereby affecting a company's bottom line. I can't think of a more exciting opportunity than to join this vanguard team at such a momentous time in its growth and development."
With a distinguished career spanning over 40 years in banking, Mr. Pantozzi served as President of The Provident Bank from 1989 to 1993 when he was promoted to the position of Chief Executive Officer. Adding to that role the title of Chairman of the Board of Directors in 1998, Mr. Pantozzi served in that capacity until his retirement in 2009. In a significant accomplishment in the Bank's history, Mr. Pantozzi led The Bank in its Initial Public Offering in 2003, thereby establishing Provident Financial Services and The Provident Bank Foundation. Active in numerous local, state, and national business and civic organizations, Mr. Pantozzi has served in a leadership capacity in state and national trade associations, among others. Throughout his career, he has remained committed to education through his service to the National School of Banking and having established a statewide scholarship program through The Provident Bank Foundation and several NJ colleges and universities.
About SpinCUBE
With offices in California and New Jersey, SpinCUBE is leading the change in global migration to cloud-based computing and Desktops as a Service(DaaS) model. SpinCUBE is an end-to-end Virtual Desktop Infrastructure (VDI) Service Provider. The foundation of the SpinCUBE virtual workforce solution is a secure infrastructure that transforms IT into an on-demand service by centralizing the management and delivery of applications, data, and desktops.
SpinCUBE provides a complete, fully supported IT solution for a fixed monthly fee. With SpinCUBE, clients avoid capital equipment costs, software purchases, licensing fees; maintenance/repair costs and lengthy downtime. SpinCUBE provides companies with what they want; a modern technology infrastructure with maximum uptime, optimal user experience and at a cost that is reliable and predictable.
SpinCUBE.com
IT Just Got Simple!