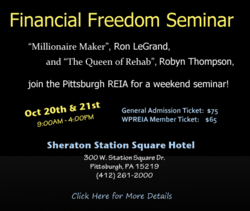 "Run for your life from any man who tells you that money is evil. That sentence is the leper's bell of an approaching looter." Ayn Rand, Atlas Shrugged
Pittsburgh PA (PRWEB) September 24, 2012
The ideals presented in Atlas Shrugged dovetail perfectly with the entrepreneurial spirit that runs through the Western PA Real Estate Investors Association. For this reason, the Pittsburgh based club has chosen to promote this much anticipated move to other potential entrepreneurs in Western Pennsylvania.
The book Atlas Shrugged was written by Ayn Rand in 1957 and was an instant classic. To date it has sold more than 25 million copies worldwide. Widely viewed as one of the most influential books of modern times, Atlas Shrugged is a must read for anyone who wants to attain financial freedom.
For those people who have not read the nearly 1100 page masterpiece, the following is a quote taken from an article written by Stephen Moore in the January 9, 2009 edition of the Wall Street Journal.
"For the uninitiated, the moral of the story is simply this: Politicians invariably respond to crises -- that in most cases they themselves created -- by spawning new government programs, laws and regulations. These, in turn, generate more havoc and poverty, which inspires the politicians to create more programs . . . and the downward spiral repeats itself until the productive sectors of the economy collapse under the collective weight of taxes and other burdens imposed in the name of fairness, equality and do-goodism."
Ayn Rand had a gift for understanding the folly of government and explaining in plain everyday language how and exactly why their meddling in the free market would come to a disastrous and predictable end. Her literally heroes are all strong minded morally sound individuals who create for their own benefit and in that act of creation, they bring great benefits to those around them. It is the creator who is prized most in Rand's utopia.
Creating wealth is the goal of every investor. It is no accident that the majority of millionaires in America created their wealth through real estate investments. Donald Trump became one of the wealthiest people in America through real estate. There is no better vehicle for the creation of wealth, no matter what the markets are doing. The membership of the Western PA Real Estate Investors Association are big proponents of creating wealth through a combination of education and determination, the sort of values that Ayn Rand herself would have approved of.
In furtherance of the goal of wealth creation and with a target of financial freedom; the Western PA Real Estate Investors Association is hosting a Financial Freedom seminar on October 20-21st at the Sheraton Hotel in Station Square. Tickets are limited to the first 150 registered guests. This is a once in a lifetime event for the Pittsburgh region. Donald Trump will not be speaking, but two of the featured real estate educators have lectured on the same stage as "The Donald". Ron Legrand and Robyn Thompson are both headline quality speakers. They are coming to Pittsburgh along with Jay Conner and Lee Phillips, to teach the people of Pittsburgh how to make big money in real estate.
Ron Legrand has trained many people to become millionaires on their own, through his system of quick selling single family houses. Robyn Thompson is a self-millionaire in her own right, having rehabbed and sold over 320 houses. Lee Phillips is one of America's premier asset protection lawyers. Jay Conner is the king of raising money for real estate deals without going to a bank. They are all coming to Pittsburgh for this once in a lifetime event to teach attendees how they made their fortunes. For tickets contact the Western PA Real Estate Investors Association. This is an event that Ayn Rand would have wanted to attend.