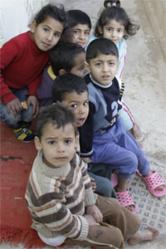 Washington, DC (PRWEB) September 21, 2012
For Immediate Release
Recent reports have stated that about 2,000 children have been killed in Syria since the uprising began in March 2011. Children have also been subjected to arrest, torture, and sexual abuse by Assad forces according to UN special representative on children in conflict, Leila Zerrougui.
SEE: Protect the Most Innocent in Syria –Children http://www.csmonitor.com/Commentary/the-monitors-view/2012/0920/Protect-the-most-innocent-in-Syria-children
Zerrougui says her UN team has "documented government attacks on schools, children denied access to hospitals, girls and boys suffering and dying in bombardments of their neighborhoods and also being subject to torture, including sexual violence."
SEE: UN Investigating Reports of Attacks Targeted at Children in Syria http://gulfnews.com/in-focus/syria/un-investigating-reports-of-attacks-targeted-at-children-in-syria-1.1078892
"We have consistently been hearing about cases of children being specifically targeted for violence by the Assad regime," said SEO Communications Director Rasha Othman. "Children in Syria are often singled out for violence by the Assad regime in a deliberate effort to punish families and ultimately subdue the population by attacking the most vulnerable and defenseless."
There is growing concern over the psychological ramifications the violence is having on Syrian children's mental health. There have been reports of suicide attempts by children, and many are showing marked signs of post-traumatic stress disorder.
SEE: Bashar Al-Assad's War on Syrian Children http://www.thedailybeast.com/articles/2012/08/23/bashar-al-assad-s-war-on-syria-s-children.html
"There must be a large scale humanitarian effort focusing on providing medical and mental health care to children victims of the violence," said Othman. "This is a grave issue that not only affects these children presently, but will continue to affect future generations of Syrians. The rehabilitation of Syrian society must be implemented broadly and in a sustained long-term effort."
The Syrian Expatriates Organization is a leading nonprofit organization of Syrian Americans and Syrian Canadians that reflects the diversity and talent of the Syrian nation. Its mission is to support the establishment of a free and democratic Syria. In addition, the SEO provides humanitarian relief to those in need and works to promote the social, political and economic development of Syria.