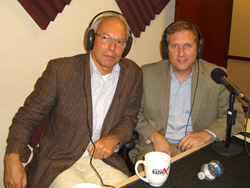 Atlanta's international airport serves as a gateway to the business world.
Atlanta, GA (PRWEB) September 22, 2012
On September 19, 2012, Business RadioX™'s Atlanta Business Radio hosted a special edition dedicated to discussion of international business opportunities in the Atlanta area. Co-hosts Stone Payton and Lee Kantor sat down with Dr. Bart Wigman of Gielissen Interiors and Exhibitions and Jeff Hannah of Nuance International to learn more about how Atlanta serves as an international hub for trade show business.
Dr. Bart Wigman serves as the CEO of Gielissen Interiors and Exhibitions. Gielissen has eleven operations: Five in the Netherlands (Amsterdam, Eindhoven, Wanssum and two in Helmond), two in Germany (Hanover and Stuttgart), one in Belgium, two in the United States and one in Abu Dhabi, as well as a global network of local partners and suppliers. Gielissen's field of work is very diverse: they realize interior projects, spatial presentations and events and congresses, whereby their top priority is achieving a high return on investment for their clients. Gielissen's approximately 400 professionals design and realize three-dimensional projects in any form and size. Professional project management guarantees cost-effective price tickets and flexible solutions. Consultation and cooperation are central to all activities.
In 2011, Nuance International was acquired by Gielissen, hence the partnership between Wigman and Hannah. Jeff Hannah is the President of Nuance International, a world-class provider of design, project management, and production of trade show exhibits, interior environments, private events, corporate theater and experiences.
Hannah described the benefit of being partnered with a global company such as Gielissen, particularly as an Atlanta-based company. Hannah says that this partnership allows both companies to focus on cross-cultural business. Diverse cultures and ways of doing business can make hosting a successful trade show challenging. For example, the nature of a trade show in a European country is quite different than that of a U.S. trade show.
With Atlanta's international airport serving as a gateway to the business world, international business has become essential and thriving to the area. Explains Wigman, "If you're an international company, you can wake up in Atlanta at seven in the morning, take a business meeting anywhere in North America and actually be home that night. You can't do that anywhere else in the world."
To hear more about Gielissen's and Nuance's partnership, please listen to a re-broadcast of this show at Atlanta Business Radio.
About Stone Payton:
For over 24 years, Stone Payton has been helping organizations and the people who lead them drive their business strategies more effectively. He is a Managing Partner at Business RadioX™ and the author of SPEED®: Never Fry Bacon In The Nude: And Other Lessons From The Quick & The Dead, and has dedicated his entire career to helping others produce better results in less time.
About Lee Kantor:
Lee Kantor has been involved in Internet radio, podcasting and blogging since he started the Dr. Fitness and the Fat Guy show in 2005. Since then, Lee has interviewed well over 1000 entrepreneurs, business owners, authors and celebrities on a variety of shows and at live events. In addition to his hosting duties, Lee is a Managing Partner at Business RadioX™ and is committed to helping entrepreneurs and business owners in Atlanta learn how to use radio to dramatically grow their businesses.
About Atlanta Business Radio:
http://www.atlantabusinessradio.businessradiox.com
Each week, from the Business RadioX™ studio in Sandy Springs, Lee Kantor and Stone Payton interview Atlanta, Georgia's top businessmen and businesswomen to learn what makes them the best at what they do.
About Business RadioX™:
Business RadioX™ provides a turnkey solution for business owners who want to leverage the power of internet radio to meet their best prospects, establish credibility for their organization and heighten the placement of their brand in search engines rankings. With a professional venue and a proven formula, Business RadioX™ helps hosts podcast their shows and create a regular stream of dynamic content to share with their prospects and feed the search engines every week. Programs are recorded and streamed live to the internet from our studios in the greater Atlanta area. For more information or to hear a live show, visit: http://www.businessradiox.com.