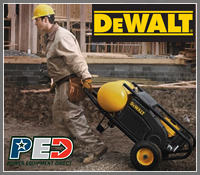 DeWalt builds rugged compressors to withstand the rigorous demands of construction sites and professional garages
Bolingbrook, IL (PRWEB) September 21, 2012
Today Power Equipment Direct announced the expansion of its product offering with the 2012 DeWalt air compressor lineup.
"DeWalt builds rugged compressors to withstand the rigorous demands of construction sites and professional garages," said Steve Robbins, resident air compressor expert at Power Equipment Direct. "With heavy-duty components and a keen eye to manufacturing quality, these compressors are built to last."
The expanded selection of DeWalt compressors includes new portable, single-stage and two-stage compressors.
DeWalt manufactures a wide range of air compressors, diverse enough to be used in virtually any situation. From small 7.5 gallon tanks all the way up to 80 gallon tanks, there is sure to be a DeWalt compressor to fit most consumer's needs.
In addition to DeWalt, PowerEquipmentDirect.com carries more than 475 models of compressors from top brands such as Chicago Pneumatic, Ingersoll Rand, FS Curtis and Quincy.
Power Equipment Direct operates 11 niche online superstores. The Bolingbrook, IL-based company operates AirCompressorsDirect.com, ChainSawsDirect.com, ElectricGeneratorsDirect.com, LeafBlowersDirect.com, LogSplittersDirect.com, MowersDirect.com, PressureWashersDirect.com, SnowBlowersDirect.com, SumpPumpsDirect.com, TillersDirect.com and WaterPumpsDirect.com.