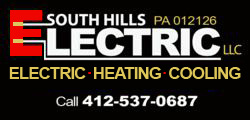 With a Siemens Surge Protection System our customers can feel secure in the event of a power-surge, due to an outage, or lightning strike
Pittsburgh, PA (PRWEB) September 24, 2012
Pittsburgh Headquartered South Hills Electric Heating Cooling adds Siemens line of Home Surge Protection products to preserve Home Owners' electronic assets in the event of a power surge due to a power outage or lighting strike.
The average US home today lists close to 50 electronic items and appliances. With a list like this, and growing, the importance of providing South Hills Electric Heating Cooling customers the best product choices possible to protect their home electronics is an imperative; and, Siemens offers the best-of-breed in home power-surge protection systems, said Pat Cray, owner of South Hills Electric Heating Cooling.
When a surprise power outage, surge, or lighting strike hits a home, with all its electronic items, and, with just about everything containing a motherboard, it could be devastating. Factor in the growth of home-based offices and the potential data loss suffered due to a power-surge, outage or lighting strike could be immeasurable. For a home owner, a lot's at risk.
With a Siemens Surge Protection System our customers can feel secure in the event of a power-surge, due to an outage, or lightning strike, that whatever household electronics they have, from TVs, to computers and accessories, to appliances will be fine and working as they should once power is restored Mr. Cray stated.
South Hills Electric Heating Cooling added; Siemens has been around for over 150 years, we've tested their products. A nearby lightning strike for example can result in a surge as high as 10,000 amps at the point of entry, and, depending on which Siemens system is chosen, it can withstand a current impulse of between 40,000 and 60,000 amps – more than ample surge protection for our home-owning customers.
Siemens Home Surge Protection Systems are unsurpassed in quality, dependability, and, backed by Siemens warranty.
About South Hills Electric Heating Cooling:
South Hills Electric Heating Cooling is located at:
South Hills Electric Heating Cooling
930 Glass Run Rd
Pittsburgh, PA 15236
(412) 537-0687
patcray(at)southhillselectric(dot)com
http://southhillselectricheatingcooling.com
South Hills Electric Heating Cooling provides first class electrical, heating, air conditioning, and plumbing services to the greater Pittsburgh area. Since 1993, we have installed furnaces, boilers, heat pumps, air conditioners, electrical systems and hot water heaters. We are licensed, registered certified and insured to work in your home or business. We carry an A+ rating from the Better Business Bureau and are registered with the PA Attorney General License #PA012126.
###