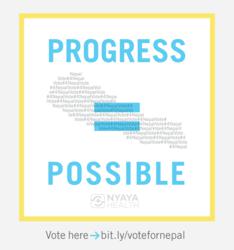 Thousands more poor Nepalis will now be able to access the free, quality health care Nyaya Health provides. — Mark Arnoldy, executive director of Nyaya Health
Boston, MA (PRWEB) September 21, 2012
WHAT HAPPENED: The small, U.S.-based norprofit, Nyaya Health, placed 8th overall in the annual Chase Community Giving contest, which ended Sept. 19. The group, which brings free health care to the poor in rural Nepal, is one of ten organizations that will receive a $100,000 grant. Nyaya Health was one of 196 organizations awarded a prize out of the more than 7,000 that were nominated.
WHAT THIS MEANS: Nyaya Health provides free, quality health care in the Far-Western region of Nepal, one of the remotest areas of the world. This grant equals about a tenth of the group's annual operating budget and will allow thousands more poor Nepalis to access health care. The World Health Organization recently noted that Nepal is one of the areas with a critical shortage of health care workers, with only 23 doctors, nurses and midwives per 10,000 people. This grant will allow Nyaya Health to do even more to close that gap.
"I'm so proud of how hard Nepal and Nyaya Health supporters worked to help us win this grant," said Mark Arnoldy, executive director of Nyaya Health. "Thousands more poor Nepalis will now be able to access the free, quality health care we provide."
HOW THEY DID IT: Nyaya Health used a coordinated social and traditional media campaign designed to engage a broad number of social users. The group secured a number of celebrity endorsements, including Miss Nepal 2012 Shristi Shrestha, Ramon Magsaysay Award winner Mahabir Pun, Dr. Paul Farmer, Nepali media personality Malvika Subba and a number of societal and business influencers. Nyaya Health rolled out these endorsements at strategic moments to expand audience reach. By focusing on the mission of bringing health care to poor Nepalis and engaging socially with groups most likely to vote (Nepalis, supporters of Nepal and supporters of global health work), maximized efforts and moved large numbers of voters.
"We're a small staff, so having a smart plan heading into the contest was critical to our success," Arnoldy said. "Our winning shows that even tiny organizations have an opportunity to win significant funding in these types of contests."
MORE ABOUT NYAYA HEALTH: The group is expanding access to health care in the Far-Western Region of Nepal through its work with the once-closed Bayalpata Hospital and employment of more than 100 community health care workers.
In 2011, Nyaya Health:

Treated more than 30,000 patients at Bayalpata Hospital
Cared for more than 11,300 patients through the community health worker program
Broke ground on the region's first microbiology lab
Hired 20 new Nepali staff members
Performed more than 43,000 lab tests
Provided HIV treatment and worked to prevent mother-to-child HIV transmission
Used community health workers to educate Nepalis about family planning and other health issues, including how proper sanitation can prevent disease
The group believes everyone has the right to quality health care. In addition to providing day-to-day care, Nyaya Health partners with government agencies to promote the creation of just systems and "infrastructure for equity," which creates the possibility for the right to health and sustainable change.
Nyaya Health is committed to building a long-term health care system in rural Nepal. In addition to partnering with the Nepali government, the organization has hired 98 percent of its local staff from Nepal. More than 80 percent of team members come from the Far-Western Region.
For interviews with Executive Director Mark Arnoldy or for additional background on Nyaya Health or the contest, contact Erin White, erin(at)caminopr(dot)com, 212.255.2575.
###
Nyaya Health brings life-saving, quality health care to rural Nepalis by establishing hospitals and clinics and training community health care workers. The nonprofit, which re-opened the previously abandoned Bayalpata Hospital, has brought free health care to more than 121,000 people in Nepal's Far-West Region.