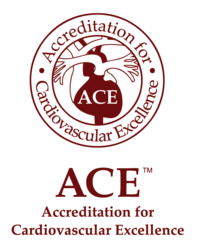 "ACE accreditation is our version of the Good Housekeeping Seal of Approval – a clear message to patients, colleagues, hospitals, the media and government that we are doing the right thing for the patients we serve," said J. Jeffrey Marshall, MD, FSCAI
Washington, DC (PRWEB) September 24, 2012
In the September, 2012 CCI President's Page, J. Jeffrey Marshall, MD, FSCAI, President of the Society for Cardiovascular Angiography and Interventions (SCAI), shared his opinion on the need to accredit cath labs through ACE, the Accreditation for Cardiovascular Excellence.
"...I want to focus on what individual practicing interventionalists can do to restore our profession's great name," said Dr. Marshall, the medical director of the cardiac catheterization laboratory at Northeast Georgia Medical Center (NGMC). His comments were in response to television news programs that have misrepresented appropriate use criteria (AUC) in the treatment of interventional cardiology patients and to his own positive experience with gaining provisional accreditation for NGMC's percutaneous coronary intervention (PCI) program with ACE.
ACE elevates the performance of your cath lab. "ACE accreditation is our version of the Good Housekeeping Seal of Approval – a clear message to patients, colleagues, hospitals, the media and government that we are doing the right thing for the patients we serve," he said. "…today, the cost of a procedure often trumps a physician's carefully considered medical judgment, [and NGMC] realized we need more than testimonials and trophies."
The ACE accreditation program is uniquely comprehensive and engages physicians in the quality outcomes process. "ACE staff came to our hospital for 2 days and studied our records, reviewed staff credentials, evaluated our quality improvement programs, reviewed randomly selected cases and visited labs to see our teams in action," said Dr. Marshall. " . . . the process [is] instructive for cath lab personnel, administrative staff, data coordinators, doctors, and nurses."
ACE focuses your cath lab on the vital quality indicators. "It's part of the reason ACE was created," stated ACE Chief Medical Officer Dr. Bonnie H. Weiner. "ACE provides a quality improvement tool that helps each cath lab identify its individual strengths and weaknesses. Our findings show that the majority of cath labs reviewed by ACE have been delivering guidelines-driven care that is appropriate but that they lack the documentation to prove it. As physicians, we are doing a good job taking care of our patients but we could do better on the paperwork."
About Accreditation for Cardiovascular Excellence (ACE)
ACE, an independent organization sponsored by the Society for Cardiovascular Angiography and Interventions (SCAI) and the American College of Cardiology Foundation (ACCF), offers independent evaluation and monitoring of facilities that provide cardiovascular care. By reviewing facility and operator performance and comparing clinical decision-making to nationally accepted best practices, ACE peer review and accreditation services plays a critical role in continuous quality improvement programs. Learn more at http://www.cvexcel.org.
1 Fox News ''House Call.'' http://video.foxnews.com/v/1682986147001/too-many-people-getting-angioplasties. Accessed June 10, 2012.
2 Accreditation for Cardiovascular Excellence (ACE): The First Experience with Process Reviews. (May 10, 2012). Las Vegas, NV: SCAI 2012 Scientific Sessions, 2012.