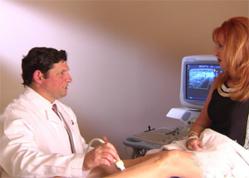 The ACR Gold Seal of Accreditation represents the highest level of quality and safety and we are one of the few facilities in the area meeting these standards and guidelines.
-Dr. Mikdadi
Hammond, LA (PRWEB) September 24, 2012
The Heart Clinic of Hammond, has been awarded a three-year term of accreditation in nuclear medicine and ultrasound as the result of an extensive review by the American College of Radiology (ACR). Nuclear medicine is a branch of medical imaging that uses small amounts of radioactive material to diagnose and treat a variety of disease, including many types of cancers, heart disease, and certain other abnormalities within the body. Ultrasound Imaging, also known as sonography, uses high-frequency sound waves to produce images of internal body parts to help providers diagnose illness, injury, or other medical problems.
The ACR gold seal of accreditation represents the highest level of image quality and patient safety. It is awarded only to facilities meeting ACR Practice Guidelines and Technical Standards, following a peer-review evaluation by board-certified physicians and medical physicists who are experts in the field. Image quality, personnel qualifications, adequacy of facility equipment, quality control procedures, and quality assurance programs are assessed. The findings are reported to the ACR Committee on Accreditation, which subsequently provides the practice with a comprehensive report they can use for continuous practice improvement.
The ACR is a national professional organization serving more than 34,000 diagnostic / interventional radiologists, radiation oncologists, nuclear medicine physicians, and medical physicists with programs focusing on the practice of medical imaging and radiation oncology and the delivery of comprehensive health care services.
The Heart Clinic of Hammond physicians include Dr. Ghiath Mikdadi and Dr. Frank J. Arena. Dr. Mikdadi has practiced in the Hammond, Louisiana area for over 10 years. After completing his internship and residency at the Baylor College of Medicine, Dr. Mikdadi continued his training with a Cardiology fellowship at LSU Health Sciences Center in New Orleans. He is board certified by the National Board of Echocardiography, Certification Board of Nuclear Cardiology, American Board of Internal Medicine – Cardiovascular Disease and the American Board of Internal Medicine. Dr. Frank J. Arena has over 15 years of professional experience. He is board certified in: Internal Medicine, Cardiology, Interventional Cardiology, Nuclear Cardiology, and Echo Cardiology. He also specializes in the treatment of superficial vein disease such as varicose veins.
For more information on the Heart Clinic of Hammond and its ACR Accreditations in Nuclear Medicine and Ultrasound, visit The Heart Clinic of Hammond at http://www.hammondheart.com .