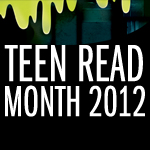 St. Louis, MO (PRWEB) September 24, 2012
St. Louis County Library will celebrate Teen Read Month in October with special events and programs aimed at encouraging area teens to read. Thousands of libraries, schools and bookstore across the country will hold similar events centered on this year's theme, It Came from the Library, which dares teens to read for the fun of it!
Teen Read Month is a time to celebrate reading for fun and encourage teens to take advantage of reading in all its forms—books and magazines, eBooks, audiobooks and more—and become regular library users. It is the national adolescent literacy initiative of the Young Adult Library Services Association (YALSA), a division of the American Library Association.
"Teens have more activities to fill their free time than ever—web videos, social networking sites, video games, afterschool activities, athletics—and increasingly high expectations in the classroom," said Sara Wood, Assistant Youth Services Manager. "It's important that we show them that reading is something that's fun and relaxing that they can do for free. And that reading for fun can translate into better performance at school."
SLCL has a variety of fun programs scheduled for Teen Read Month. Activities include Steampunk Creations, Zombie Survival 101, Frankenstein Your Food, as well as author events and a Read 3 Get 1 Free promotion (details at http://www.slcl.org/teen-read-month).
"Many families have learned to make do with less as a result of the economy and have flocked to the library," Wood said. "Teen Read Month is a great time to make sure teens and their families know about all the free services the library can offer them and to reach out to teens who aren't regular users and encourage them to come see what they can find here."
Parents of teens are encouraged to celebrate Teen Read Month at home, as well. Wood offers these ideas:
•Visit the public or school library with your teen to attend a program or to check out books.
•Set aside time each night for the family to read.
•Give books or magazine subscriptions to your teen as a gift or reward.
•Share your favorite book with your teen.
•Go online with your teen to learn about new books or authors. A good place to start is YALSA's Booklists and Book Awards page, http://www.ala.org/yalsa/booklists.
•Join a book discussion group at the school or public library.
To learn more about Teen Read Month activities at St. Louis County Library please call 314-994-3300 or visit http://www.slcl.org/teen-read-month.