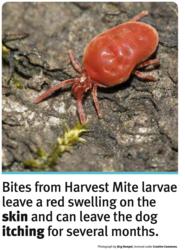 (PRWEB UK) 21 September 2012
Owners of itchy dogs are bombarding the natural supplements firm Lintbells with pleas for help as the late summer sunshine causes harvest mite misery for dogs and cats up and down the country. The recent warm weather has seen website enquiries at the firm increase this month by 700% on July as many pets are suffering severe skin problems due to attacks by harvest mite larvae, leading to owners' fearing their pet may have developed an allergy.
Dr John Howie, co-founder of Lintbells, said: "This is the time of year that we would expect harvest mites to be about but the recent weather has created perfect conditions and from the feedback we are getting it seems they are everywhere. Dog and cat owners are likely to notice a sudden increase in their pets itching and scratching, which indicates the harvest mites are active.
"An attack can leave dogs with such itchy skin that the owner worries they have come into contact with something causing an allergy but the chances are it will be harvest mite larvae and it can be thoroughly miserable for any animal unfortunate enough to come into contact with them."
The larvae can be recognised as clusters of orange-red dust attached to the dog or cat's hair. Lintbells is urging pet owners to read an article giving detailed advice about recognising and relieving the problem at http://www.lintbells.com/articles/harvest-mites-in-dogs-and-cats
The severe itching caused by harvest mites can be relieved by the omega 3 and 6 oils found in Yumega Plus. They help calm the skin, relieving itching and scratching, and support the skin's natural moisture barrier, which boosts the skin's health. The addition of natural Vitamin E helps the skin's defences.
In addition, the improvement to coat growth and condition may help create a better physical barrier to harvest mite infestation. Some veterinary flea treatments may be effective when carried out under the direction of a clinician. If left untreated the larvae will feed for a few days and then drop off.
Additional relief for pets that have suffered bites may be found in the Lintbells Silvercare range. This includes Silvercare Skin Cream, which will help clean up the bite and support the healing process and Silvercare Eye Spray, which when sprayed onto bites will provide quick relief and minimise bacteria. The products use the antibacterial properties of silver to provide a natural way to treat bites and cuts.
Dr Howie said: "The first active stage in the life-cycle of the harvest mite, and the only stage that attacks dogs and cats, is the six-legged larvae. Heavy infestations of these larvae can be found on clods of earth, long grass or matted vegetation and they can be very localised – for example in one garden but not another. They occur in towns and urban areas as well as the countryside.
"It's best to exercise your dog early in the morning before the harvest mites become active and avoid areas of long grass and vegetation where possible."
Itching usually develops in a pet within about half a day of exposure but the discomfort can continue for several weeks afterwards. Dogs may rub, bite or scratch the affected area and if the skin is damaged it can become infected.
Further information about Yumega Plus, Yumega Cat and Silvercare products can be found at http://www.lintbells.com.
Ends
Notes to Editors:
Yumega Plus is a natural blend of the finest omega 3 & 6 oils from cold pressed Golden Flax, Starflower and fresh salmon oil. The ingredients are specially selected to help dogs with sensitive and itchy skin by reducing itching and scratching, calming sensitive skin and supporting general skin health.
For more information about this release please contact Dr John Howie, Lintbells Marketing Director on 01462 790886 or 07771 957948.