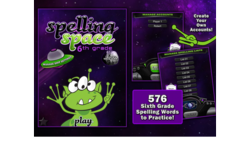 Portage, MI (PRWEB) September 24, 2012
The final installment of Learning Gems' educational spelling app series has been launched and offers an exciting method for spelling practice at the 6th grade level. This app for tablets can be downloaded from the Barnes & Noble and Amazon Kindle app stores as well as on Google Play.
Spelling Space – 6th Grade, an outer spaced themed game hosted by a hilarious extraterrestrial, features 29 different spelling lists composed of 576 high frequency words. The spelling lists featured in the app were created around already existing spelling lists from a local elementary school. The selected words were then recorded by an actual school teacher. These recordings are used for the audible portion of the game.
Upon launching Spelling Space – 6th Grade, individual user accounts can be created. Then, a spelling list can be assigned to each user. During gameplay, participants hear an audible version of the word and are then challenged to spell it using a keyboard. Each correct response earns them an asteroid that they can put to use in a mini game upon completion of the particular spelling list. Each time a list is completed a grade is awarded. The grade is recorded and can be used to track progress. Further, the students can be challenged in two ways by this educational app. They can either complete entire lists or focus on problem words alone.
The mini game presented at the end of each spelling list allows players to shoot their earned asteroids at spaceships flying around the screen. This reward gives the child an incentive to try the list or challenging words again.
Other educational apps from Learning Gems provide elementary-aged students with a fun way to practice math, Spanish, colors and shapes and to exercise their memory skills. There are also other versions of Spelling Space available that cater to different grade levels.
The Learning Gems team features talented graphic designers, programmers, copywriters and school teachers. Learning Gems is a venture of Blue Fire Media, a company that specializes in web design in Kalamazoo, MI.