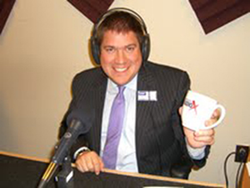 We support our agents' activities with creativity, continuous education, business planning, and coaching.
(PRWEB) September 23, 2012
On September 19, 2012, Business RadioX™'s Real Estate Atlanta Radio welcomed to the studio a group from the Coldwell Banker Residential Brokerage Dunwoody Office. Joining co-hosts Stone Payton and Kevin Finn were Managing Broker Brett Duffy and Sales Associates Karen Armstrong and Melanie White.
The Coldwell Banker Brokerage Dunwoody Office is a full-service real estate office with an award-winning team of professionals who are dedicated to truly remarkable service. They serve all of DeKalb, North Fulton, Fulton, East Cobb, Cobb and Gwinnett counties, offering mortgage, title and closing, insurance, home warranty and other home-related services through their Concierge department.
Brett Duffy, Managing Broker, believes it is his duty to provide a productive atmosphere for his agents. According to Duffy, "We support our agents' activities with creativity, continuous education, business planning, and coaching."
Karen Armstrong, Sales Associate, believes every customer is an exciting challenge. She takes pride in being knowledgeable about all Atlanta neighborhoods and the ever-changing real estate market. As a top producer for Coldwell Banker, Armstrong is one of the top Fannie Mae agents in Georgia.
Melanie White, Sales Associate, will get the job done by using an aggressive and proven marketing plan individually tailored for each client. She is a top sales associate with over 24 years of experience.
To hear more about the Coldwell Banker Residential Brokerage Dunwoody Office and their success in the Atlanta real estate market, please visit Real Estate Atlanta.
About Real Estate Atlanta Radio:
http://www.realestateatlanta/businessradiox.com
Each Wednesday at 3:00 pm Eastern, we interview Atlanta's Best Realtors® about the market, the profession, and their individual approach to serving clients.
About Business RadioX™:
Business RadioX™ provides a turnkey solution for business owners who want to leverage the power of internet radio to meet their best prospects, establish credibility for their organization and heighten the placement of their brand in search engines rankings. With a professional venue and a proven formula, Business RadioX™ helps hosts podcast their shows and create a regular stream of dynamic content to share with their prospects and feed the search engines every week. Programs are recorded and streamed live to the internet from our studios in the greater Atlanta area. For more information or to hear a live show, visit: http://www.businessradiox.com.